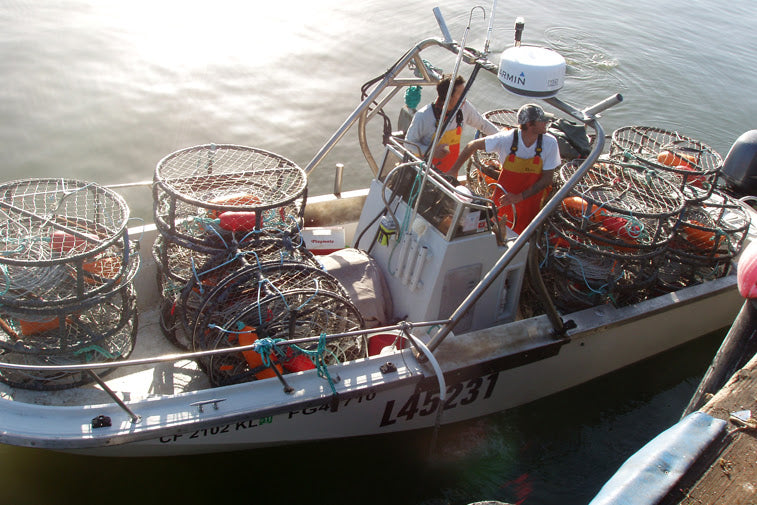 Dungeness Crab is the most commercially important crab in the Pacific Northwest. With a range that spans from Southern California up to Alaska, it is a delicacy not to be missed when the season is in full force.
The name Dungeness is a reference to the Dungeness Spit, a stretch of land in Northwest Washington State. Dungeness Crab live in Intertidal zones to a depth of 170 meters. They have a mild sweet taste and weigh 1.5-3 lbs on average. They are rated by the Monterey Bay Aquarium Seafood Watch as Good Alternative.
The 2016-2017 season was one of the largest hauls seen in recent years, which was a welcome relief to the delayed start to the season in 2015-2016 in certain areas due to high levels of Domoic Acid, a result of algal blooms. The catch is managed by the Pacific States Marine Fisheries Commission, a tri-state effort to monitor the health of the fishery. This fishery is still in danger as we are seeing larger and more frequent algal blooms due to rising sea temperatures.
It is imperative to protect this fishery and maintain its economic health. Recently a lawsuit was filed by the Pacific Coast Federation of Fishermen's Associations against big players in the Oil industry, citing their pollution and negative effects as the reason for the increased ocean temperature that caused the algal blooms. The Dungeness Crab fishery is worth $50-60 million in CA alone and should be protected.
---
← Older post Newer post →