And frequently asked questions
When you order from Sea to Table, you're always at the helm!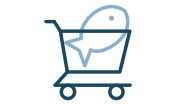 Choose from our selection of pre-built boxes, or custom build your own. Subscribe and save, or purchase for one-time delivery.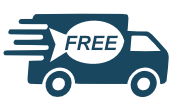 On any order of $99+ (after any discounts are applied).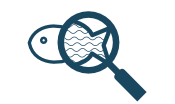 If you are not 100% satisfied, we will replace or refund any item within 30 days.

What is your shipping schedule?
Orders ship within 1-3 business days of purchase, and deliver within 1-3 days of shipment.* Please order by midnight on Monday to ensure same-week delivery, but note that your order may deliver same-week even if you order after Monday (depending on your transit time).
You will receive a tracking email when your order ships, and it will arrive fully frozen. We do our best to deliver on weekdays so that you have your order in time for the weekend!
Please contact support@sea2table.com with any special delivery date requests before your order ships.
(*Shipping & Delivery Schedule is subject to change during major holiday seasons.)
What will I be charged for shipping?
Orders of $99+ qualify for free standard shipping (after any discounts are applied). You will receive a tracking email when your order ships, and it will arrive fully frozen.
| | |
| --- | --- |
| Order total | Shipping Rate |
|  Up to $49.99 | $45 |
| $50 - $98.99 | $30 |
| $99+ (after any discounts are applied) | FREE |
Where does my fish ship from?
Your fish will be shipped from one of three centralized cold storage facilities, depending on the shipping address. These cold storage facilities allow us to ship species from different coasts in the same box, which reduces shipping costs for the customer and the environmental impact of shipping.
Here is a breakdown of where your fish will ship from:
Ships from Virginia
AL, CT, DC, DE, FL, GA, IN, KY, MA, MD, ME, MI, NC, NH, NJ, NY, OH, PA, RI, SC, TN, VA, VT, WV
Ships from Washington
CA, ID, MT, NV, OR, UT, WA, WY
Ships from Nebraska
AR, AZ, CO, IA, IL, KS, LA, MN, MO, MS, NM, ND, NE, OK, SD, TX,
WI
Absolutely. Once your order ships, you'll receive a shipping confirmation email with a link to a FedEx, UPS, ONTRAC or GLS-US tracking page. All orders will deliver in 1-3 days after shipping. You can also download the Shopify App to track your order. You will find a link to download the Shopify App in your order confirmation email.
How do you package the fish?
All of our fish is vacuum sealed in plastic, flash frozen, and wrapped in butcher paper. We then pack it with an eco-friendly insulation and plenty of dry ice to ensure it stays frozen while it's on the way to your door, and we guarantee it will arrive fully frozen!
How should I dispose of the packaging?
Cardboard boxes can be recycled curbside as you would any paper.
Insulation is made from recycled clothing (blue jeans) or waste from clothing manufacturing, and should be discarded in the trash unless your municipality allows textile recycling or composting. The plastic liner for the insulation is polyethylene (#4 LDPE, like a bread bag) and widely recyclable through store collection bins.
Our butcher paper is a special freezer parchment with an artificial wax lining, which should be discarded in the trash, along with plastic vacuum wraps.
Dry ice should be handled very carefully. You should never touch dry ice directly. Please leave overnight to sublimate in a well-ventilated space. Outside is preferred, away from animals and children. The dry ice should come in protective plastic that can be thrown away and a cardboard box that can be recycled.
How do you minimize the environmental impact from packaging & shipping? 
We work hard to make sure you can feel good about the fish you eat and buy every step of the way.
Our boxes are certified OCC-E fully curbside recyclable, and zero styrofoam is used. Insulation is made from recycled clothing (blue jeans) or waste from clothing manufacturing.
We ground ship the vast majority of our boxes, versus shipping by air, which has a higher carbon footprint.
We are a proud Certified B Corporation since our founding. "B Corps" are businesses that meet the highest standards of verified social and environmental performance, public transparency, and legal accountability to balance profit and purpose.
Do you ship beyond the continental USA?
At this time, we only ship within the continental United States. We do not ship to Canada, Hawaii, Puerto Rico, Alaska, or any other US territories or foreign countries. That would be too long a journey for our fish.
Do you ship to PO, APO, FPO? 
We do not ship to PO, APO, or FPO addresses at this time.
Can I order a one-time delivery, or do I need to subscribe?
At Sea to Table, you always have the option to place a one-time, non-subscription order. Simply select "one-time" at the top of the shop page:

Do I need an account to place an order?
You don't need an account to place an order. However, we would encourage you to create an account for speedier checkout on future orders, and to view your order history and manage your subscriptions. Creating an account is quick and easy; you can create an account here.
Help, I'm unable to log into my account!
If you are attempting to log into your account and our system is saying it does not recognize your email address, it may be that you have not set a password.  
If you do not have an account when you place your order you should receive an invitation to activate your account.  
You can register as a "new" customer and have full access to your account, or you can email support@seatotable.com and we can resend you an account activation link .
How does your subscription service work?
When you sign up for a Sea to Table subscription, we'll deliver our sustainably sourced seafood right to your door at the frequency of your choosing for as long as you'd like. Simply select your preferred delivery frequency at the top of our shop page (4, 6, or 8 week), and then add whichever items you'd like to your subscription:

How much do I save by subscribing versus purchasing one-time?
Not only is a Sea to Table subscription wildly convenient, it saves you money! As you toggle between the different delivery frequencies, you'll see our prices decrease. Enjoy these savings compared with purchasing for one-time delivery:
Save 6.5% on "every 4 weeks"
Save 5.0% on "every 6 weeks"
Save 3.5% on "every 8 weeks"
How do I edit, pause, or cancel my subscription?
You can log into your account any time through the top navigation menu of our website.
Once logged in, you can edit the items in your subscription, skip the next delivery, change your next delivery date, change your delivery frequency, change your payment method or delivery address, add a discount code, or pause or cancel your subscription.
Please note that if you wish to pause, cancel, or edit your subscription, you must do so before the order is generated.
When you have a Sea to Table subscription, you're fully at the helm!
Will I receive notice before my card is charged for my next delivery?
Yes, you will be notified via email and/or SMS about your upcoming order 3-5 days prior.

Your upcoming order notification emails have links to edit your order. You can manage your subscription directly from there.
Can I have more than one subscription at a time?
Absolutely! Our subscription service allows you to have multiple subscriptions, and gives you the power to adjust and update your subscriptions as needed.
How do I reactivate a cancelled subscription?
Please send any details of the cancelled subscription to support@sea2table.com, and we will reativate the subscription for you.
Delivery Issues, Cancellations, & Refunds
Handling, Cooking, & Product
How is your fish filleted? Are your portions center-cut?
All of our fish portions are filleted and packed right here in the USA. Our cutters aim for a target weight of +/- 1 oz per pack. This range allows us to practice whole fish utilization while accounting for natural variances between cuts, leaving less waste on the cutting room floor.
This means that there will be some variation with our portions in terms of size and shape, and that we can't guarantee that you will receive center cut portions.
How should I handle my seafood when it arrives?
All Sea to Table fish has been flash-frozen, eliminating any potential parasites. Nonetheless, all seafood, regardless of the source or how it's treated, may contain bacteria that could cause illness if mishandled or cooked improperly.
For your protection, the fish should be kept frozen until you intend to defrost and prepare it right away. Always keep the fish either refrigerated or frozen, and keep it separated from other foods you might be working with.
Wash all working surfaces (including cutting boards), utensils and hands after touching raw seafood. Cook thoroughly and refrigerate leftovers immediately after your meal.
How should I defrost my fish?
The safest, most foolproof way to defrost your fish is under refrigeration. Most of our seafood will thaw completely within 24 hours. Once your fish is thawed, drain any excess liquid, give it a gentle rinse under cold water, pat it dry with a paper towel, and cook right away.
What if you don't have 24 hours to thaw your fish? In that case, try our Quick Thaw Method.
For reasons of food safety and quality, never defrost your fish in the microwave, or on the counter.
Does Sea to Table provide recipes & cooking tips?
We certainly do! You can access our recipes and cooking tips through the top navigation of our website, or check out our Prepping Your Catch page for an index of all recipes and tips.
How do you guarantee that your seafood is wild caught?
Every pack of fish from Sea to Table is labeled with species name, where it was caught, the catch method, the best-by date… and sometimes even the name of the vessel that caught it.
Sea to Table is the only online seafood company to send samples of its fish to a leading food technologies lab four times per year to have its DNA sequenced. Learn more about these efforts here.
We care about the fish you eat. That's why we go to such great extents to ensure the fish that you are ordering, and that your family is eating, is truly wild, sustainable and correctly labeled.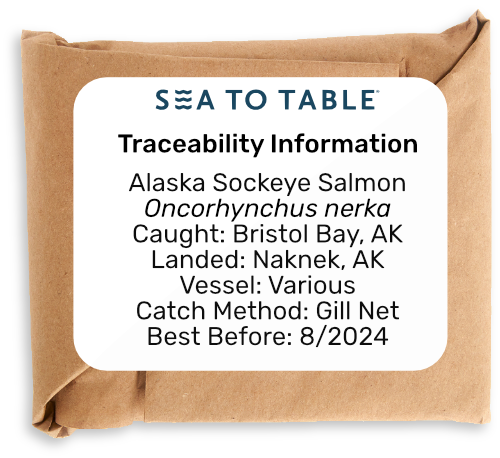 How does Sea to Table freeze its fish, and what is "flash freezing"? 
Your fish is flash frozen as close to time of harvest as possible. This process rapidly brings the temperature down to -40F, preserving the seafood without additives, eliminating the potential for parasites, and protecting it from freezer burn.
Read more about why flash freezing is a nearly perfect preservation method here. From taste to nutrition to responsibility, frozen wins.
Does your fish come with skin on it?
Our Gulf of Maine Redfish, Pacific Black Cod, Wild King Salmon, and Alaska Sockeye Salmon all deliver as skin-on portions, because the skin on these species is delicious! Check out our blog post The Keys To Crispy Skin. Atlantic Winter Skate, Northwest Pacific Halibut, Northwest Pacific Cod, Atlantic Albacore Tuna, and West Coast Dover Sole deliver as skin-off portions. Our Wild Gulf Shrimp is peeled and deveined to make for easy prep.
Can I send an order as a gift?
Absolutely! We believe the best gift is the gift of seafood. Simply add a gift message in the input box at the bottom of your cart before proceeding to checkout. Your message will be printed on the packing slip, which is included in the box and does not list any prices.
Does Sea to Table offer Corporate Gifting?
We offer Digital Gift Cards, which are emailed to the email address used at checkout. Alternatively, you could send it to your email and forward to the intended recipient.
Our Digital Gift Cards expire 5 years after issue, and can be redeemed toward any product that you see on our site except for other Gift Cards. At this time, we don't have the option of sending a physical gift card.
Can I apply a Gift Card to a subscription order? 
Yes. However, please note that gift cards will only apply to the first delivery of a new subscription – if you have a gift card balance remaining after the first delivery, it will not automatically apply to subsequent orders, though you can manually add the gift card again to your subscription once it renews.
Can I apply a discount to a Gift Card purchase? 
Yes! Simply apply one code at a time in the "discount code or gift card" input box at checkout.
What if my Gift Card did not deliver?
Please ask the recipient to check the SPAM and promotions folders of their email account. If you feel the email may be incorrect or would like it re-sent, please send an email with the order number to support@sea2table.com and we'll be happy to look into it for you.
We have answers! Please email support@sea2table.com, or use our live chat option during regular business hours. 👉