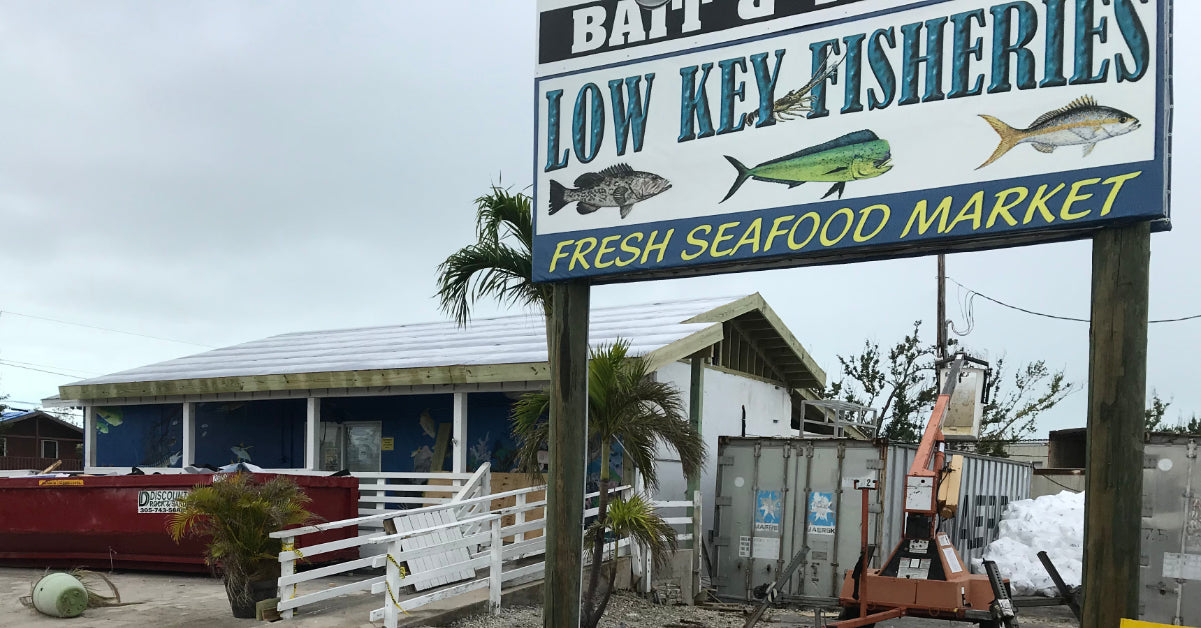 As hurricane season makes its mark along the Southeastern United States, many communities are in the midst of assessing damages in the hopes of rebuilding the place they called home. Hurricane Irma, the largest Atlantic hurricane ever recorded, made a devastating impact on the Florida Keys. Located towards the lower end of the string of islands lies Cudjoe Key: a sunny vacation destination, a bustling fishing community, and a direct hit of Hurricane Irma.
Meet the Speickers of Low Key Fisheries
Low Key Fisheries, a Cudjoe Key dock owned by brothers Scott and Cory Speicker, has become a growing resource of wild-caught, sustainable Florida seafood for our chef partners across the country. The Speicker brothers thankfully evacuated before Irma hit, but they returned to a roofless fish house lacking both electricity and clean water.  
Introducing Project Cudjoe Key
We are proud to work with the Speickers, and are motivated to maintain our long-standing and trusting relationship.
During the week of October 16th, Sea to Table will donate $20 for every fresh box from any of our 40+ docks sold to chef partners, and $5 for every home delivery order. We're also lending some helping hands (literally): During the week of October 23rd, our Dock Operations team will head down to Cudjoe Key to assist with rebuilding efforts.
At Sea to Table, we depend on those who brave the seas to bring us the best quality seafood. This week, we'll give back in order to keep our relationships with these communities strong. Join us for Project Cudjoe Key, and eat better (and more) fish.
Follow #ProjectCudjoeKey on Instagram.
  Watch: Can the Seafood Industry get Americans to Eat Local Fish? (PBS)
---
← Older post Newer post →