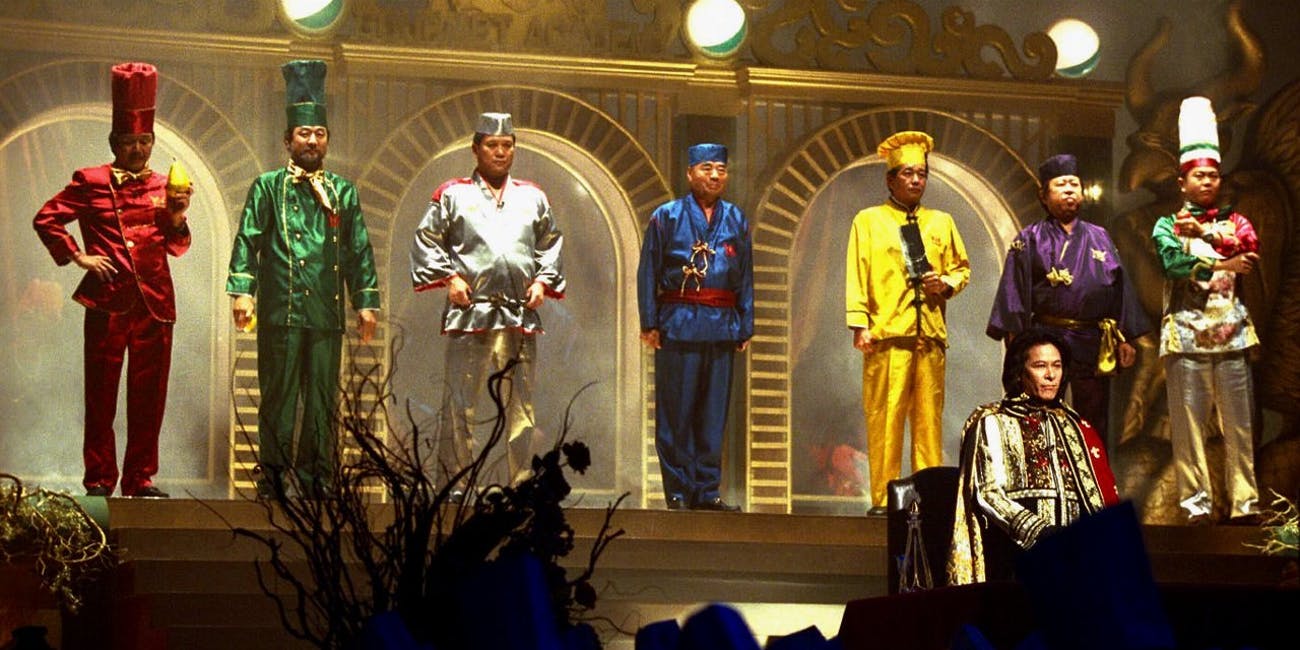 If Memory Serves Me Right:
The year was 1993. Bill Clinton was sworn in as president. We lost Kurt Cobain and all we got in return was Beanie Babies. Once again the world was ruled by dinosaurs; crowds flocked to see Jurassic Park in theaters and Barney the Dinosaur ruled the airwaves. But 1993 to me will always be the year I first heard these fateful words:
"Allez Cuisine!"
With those two words (meaning "go cook!") viewers were transported into the amazing world of Iron Chef, a Japanese cooking show that was so much more. It was an elaborate production, an all-out costumed pageant where a nattily dressed Chairman pitted three satin-costumed "Iron Chefs" against a challenger in Kitchen Stadium. With dramatic announcements, breathless commentary and a celebrity panel, Iron Chef was an ESPN-worthy mashup of sports and cooking. A Japanese "American Gladiators" with big knives. Despite the language barrier, and later on the bad dubbing, audiences were transfixed.
Unveiling the secret ingredient: "Kyo no tema wa, kore des!"
Or, translated to English, "We Unveil the Ingredient!" Thanks to Iron Chef, this is the only Japanese phrase I know. The Chairman's pronouncement was followed by bellowing smoke and strobe lighting as the elaborate curtain arose over a huge table piled high with the most exotic ingredients imaginable, from truffles and fois gras to Wagu beef. But what really made the panel of Japanese ingenues squeal with excitement was when the secret ingredient was revealed to be a type of seafood. Why? Because invariably it was huge, expensive… and alive. The audience in Kitchen Stadium watched on the edge of their seats as the chefs sprinted to the stage to catch, subdue and ultimately dispatch all manner of fish and crustaceans… from six-foot king crab to hagfish (also known as slime eels). Over the next few years, I watched Iron Chef so much that my son began to call dinner time "tasting and judgement". Iron chef was never about recipes, although there was a cookbook. But the show did demonstrate lots of cooking techniques and food information, and it introduced me to ingredients, especially fish and seafood, that I'd never tried cooking myself. I learned how to grill a salmon filet perfectly and how to use different cuts and grades of tuna (but not the eyeballs). The show, behind the silliness and pageantry, had great respect for food and ingredients. At Sea to Table, we strive to honor our seafood ingredients the same way, with an eye to freshness, value and sustainability.
"The People's Ovation and Fame Forever"
Channel your inner Iron Chef without wrestling a giant fish from the tank to the cutting board. Sourcing your seafood from Sea to Table makes it as easy as just a few clicks. We can tailor any program to your tastes, budgets and quantities. Make it as simple or as fancy as you like, from 
Wild Alaska Salmon
 to 
Gulf shrimp
. Look to us for your standbys like
Gulf of Maine Redfish
or let us help you try something new like
Atlantic Winter Skate
. Because if Iron Chef has taught us anything, the quality of your secret ingredients are everything. Whose cuisine reigns supreme? Yours, of course. PS:
Every episode of Iron Chef is now on You Tube!
---
← Older post Newer post →