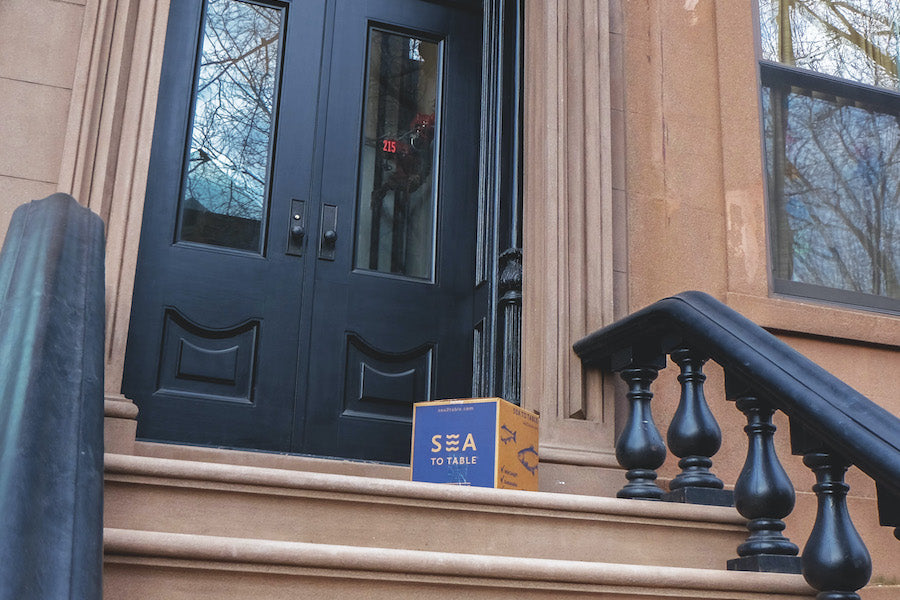 Sea to Table® launches the first national home delivery service, providing exclusively U.S. wild-caught, traceable, restaurant-quality seafood direct to home cooks
Now serving: Ready to cook favorites like Alaska Sockeye Salmon, Northwest Pacific Cod, and harder-to-find varieties like Atlantic Spiny Dogfish
BROOKLYN, May 24, 2017 – Sea to Table® is disrupting a broken food system by bringing the highest standard of wild-caught, sustainable, and traceable American seafood to discerning chefs, and now to home cooks throughout the United States with their new home delivery service.
According to Oceana, studies released since 2014 show that 28 percent of U.S. seafood is mislabeled, which means many Americans are eating something other than what they ordered. They also found that more than half (58 percent) of mislabeled seafood poses a health risk to consumers, which means that people may be eating fish that could make them sick.
"We care about the fish you eat, and want Americans to be able to trust the fish they buy," said Sea to Table co-founder Sean Dimin. "That's why we are creating the national gold standard for the seafood supply chain. We go to great lengths to make sure we can trace where our fish comes from, and work with fishermen on every U.S. coast who we know and trust."
Sea to Table's standards mean that 100 percent of their seafood is wild-caught, sustainable, domestic, and traceable. Their seafood is never farmed, processed overseas, and doesn't include hormones, antibiotics, or GMOs.
According to NOAA Fisheries, 90 percent of seafood that ends up on Americans' plates is imported, but all of Sea to Table's seafood is caught and packed in the U.S. in small coastal towns like Sitka, Alaska; Astoria, Oregon; St. Petersburg, Florida; and Chatham, Cape Cod, Massachusetts.
"Fish tastes better when you know where it comes from, just like your tomatoes taste better when you buy them from your local farmer's market," said S. Dimin. "Sea to Table's home delivery seafood is hand-filleted and flash-frozen at peak freshness. No chemicals. No preservatives. No worries."
"We have always focused on returning value to and securing jobs in traditional American fishing communities," said co-founder Michael Dimin. "Plus, there's a lot of sustainable, affordable, and delicious seafood that's caught right here in the U.S., so there's no need for so much of the fish we eat to go on long international journeys before it reaches our plates."
Sea to Table has delivered their domestic wild-caught, traceable seafood directly to top U.S. chefs for more than eight years. In pursuit of their mission to help Americans Eat Better Fish™, they work with everyone from Michelin®-rated chefs, to healthy fast-casual restaurants, to corporate and campus dining centers. Now their quality seafood is available for all home cooks throughout America.
"We're seeing customers move beyond known varieties like salmon, shrimp, and tuna to explore different types of fish," said S. Dimin. "Because we are so connected to local fishermen, we are able to offer things people haven't tried before. We've seen lots of interest in Dogfish ever since PBS ran the story, 'Can the seafood industry get Americans to eat local fish?'. It's a fish that's already popular in Europe – known in France as Saumonette, and a mainstay of British fish and chips – yet plentiful right off our coasts."
To place an order for Sea to Table seafood delivered right to your door, visit: https://www.sea2table.com/
 For more information about Sea to Table, visit: https://www.sea2table.com/ For media inquiries, contact: sean.dimin@sea2table.com or + 1-718-360-4930.
About Sea to Table Every day, port towns from Maine down to the Gulf Coast and back up to Alaska welcome the wild catch of local, independent fishermen. Sea to Table's goal is to make their delicious, sustainably-caught seafood available to everyone. We have spent years developing relationships with fishermen and docks on every U.S. coast, and we support traditional American fishing communities that take pride in feeding their fellow fish fans. Sea to Table is built upon transparency, so you always know where your fish comes from and the short trip it takes to your table. Almost as if you caught it yourself.
Founded in 2009 by father and son team Michael and Sean Dimin, Sea to Table partners with other socially-responsible organizations that care about the health of our oceans and the safety of our food including:
Monterey Bay Aquarium Seafood Watch
NOAA Fish Watch
Slow Food
Sea to Table is a certified B Corporation™ Follow us on:
Twitter: https://twitter.com/sea2table
Facebook: https://www.facebook.com/sea2table
Instagram: https://www.instagram.com/sea2table/
Sea to Table®, B Corporation™, and Michelin® are Registered Trademarks of their respective owners.
---------------------------
1: Oceana. Report published September 2016: "Deceptive Dishes: Seafood Swaps Found Worldwide." Viewed online at http://usa.oceana.org/sites/default/files/global_fraud_report_final_low-res.pdf, page 4 on May 22, 2017.
2: NOAA Fisheries. "The Surprising Sources of Your Favorite Seafoods." Viewed online at http://www.nmfs.noaa.gov/aquaculture/archive/09_13_12_top_seafood_consumed.html on May 19, 2017.
---
← Older post Newer post →