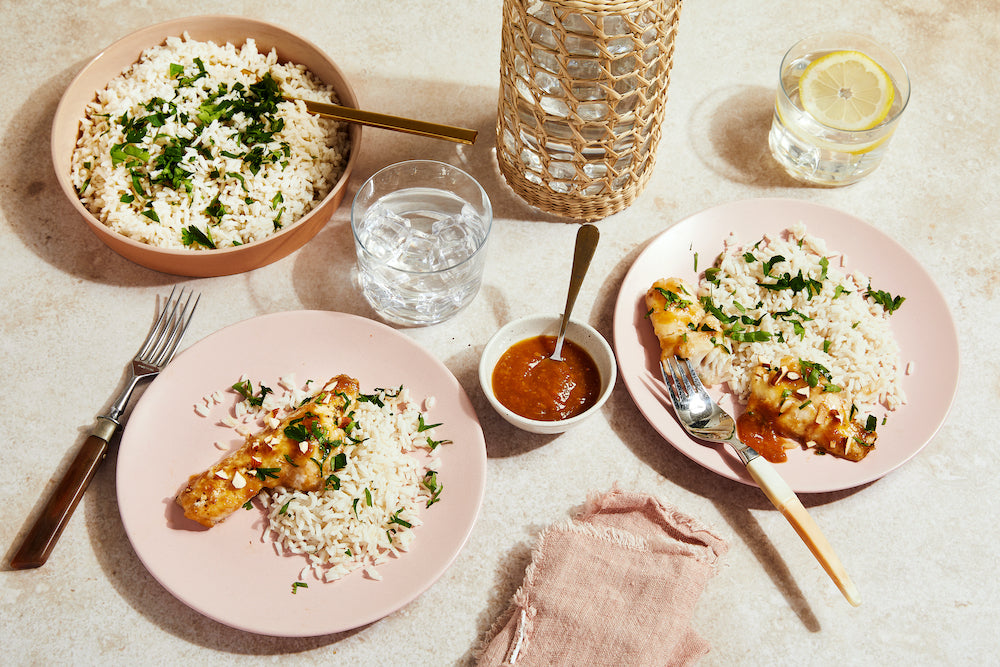 Looking for a quick and easy dinner the whole family will love? This glazed Gulf of Maine Redfish recipe has very few ingredients and can be tossed together at a moment's notice. The star of our glaze is mango chutney, a beloved Indian condiment that is sweet, savory and just a little spicy. Simply brushed on the filets and baked for a few minutes, the results look and taste amazing. Add a sprinkle of toasted almonds and you're done!
Note that most grocery stores will have jars of mango chutney available in their Indian products or International Foods section.
Mango Chutney-Glazed Redfish
Serves 3-4
Ingredients:

One pack (12 ounces) Gulf of Maine Redfish, skin on
Salt and Pepper
3-4 tbsp Mango Chutney + more for serving
¼ cup Almonds
1 tbsp Parsley or Cilantro, minced
Basmati rice for serving
Preparation:
Defrost the fish in the fridge. Pat the fish dry and season with salt and pepper.
Preheat the oven to 425F and spray a baking tray with oil.
Place the fish, skin side down, onto the baking tray and generously brush each piece with chutney.
Bake for about 8-10 minutes or until chutney is lightly caramelized and fish opaque in the middle.
Meanwhile, toast the almonds on a dry pan over medium heat for 5 minutes. Then chop and season generously with salt.
Serve the fish over cooked basmati rice and sprinkle with almonds, herb(s) and some more chutney.
---
← Older post Newer post →