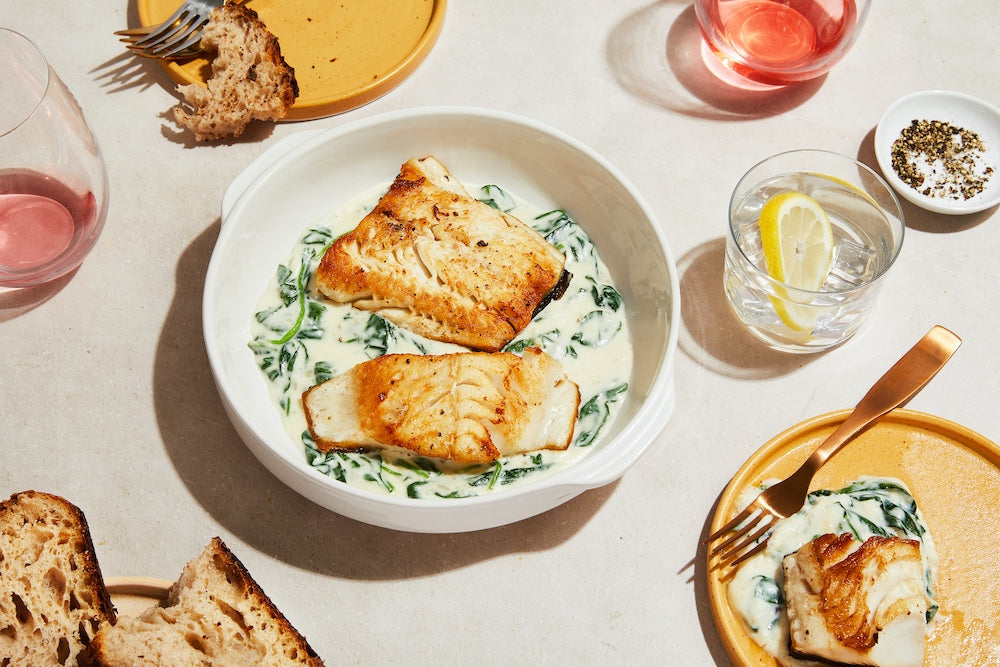 Traditionally, when a dish is described as Florentine, it means fish, poultry or eggs served with sautéed spinach and a cheesy mornay sauce. Some recipes are quite complicated, but here we make it easy with the spinach and sauce cooked together.
For this recipe, we use our wild Pacific Black Cod as the protein. Black Cod, with its buttery taste, marries well with the fresh-tasting spinach and the richness of the cheese sauce. Best yet, this is an elegant dinner in a single skillet that comes together in under 30 minutes.
Black Cod Florentine
Serves 2-3
Ingredients for the Fish:
Ingredients for the Saucy Cheesy Spinach:

2 tbsp butter
1 shallot, minced
1 clove garlic, minced
1 ½ tbsp flour
1 ½ cups (whole) milk
3 cups fresh spinach
½ cup parmesan or gruyere cheese, grated
Salt and pepper to taste
Fish Preparation:
Defrost the Black Cod in the refrigerator overnight and pat it dry (or use our Quick Thaw Method). Salt and pepper the fish generously.
Heat the olive oil in a skillet over medium high heat. Place the fish, skin side down, and sear for about 5 minutes, or until skin is nice and crispy.
Gently flip the fish and cook for additional 3 minutes.
Remove fish from pan and let rest skin side up while making the sauce.
Saucy Cheesy Spinach Preparation:
Lightly wipe the skillet you cooked the fish in with a paper towel and let it cool slightly.
Melt the butter over low heat and sauté shallot and garlic for about 3 minutes
Sprinkle flour over the onions and let cook for about 1 minute while stirring. The butter and onions will start to gather together.
Slowly pour in the milk while continuously whisking. This will give you a silky smooth sauce.
Add spinach and cook for about 1 minute until wilted.
Remove sauce from heat and stir in the cheese.
Salt and pepper to taste.
---
← Older post Newer post →