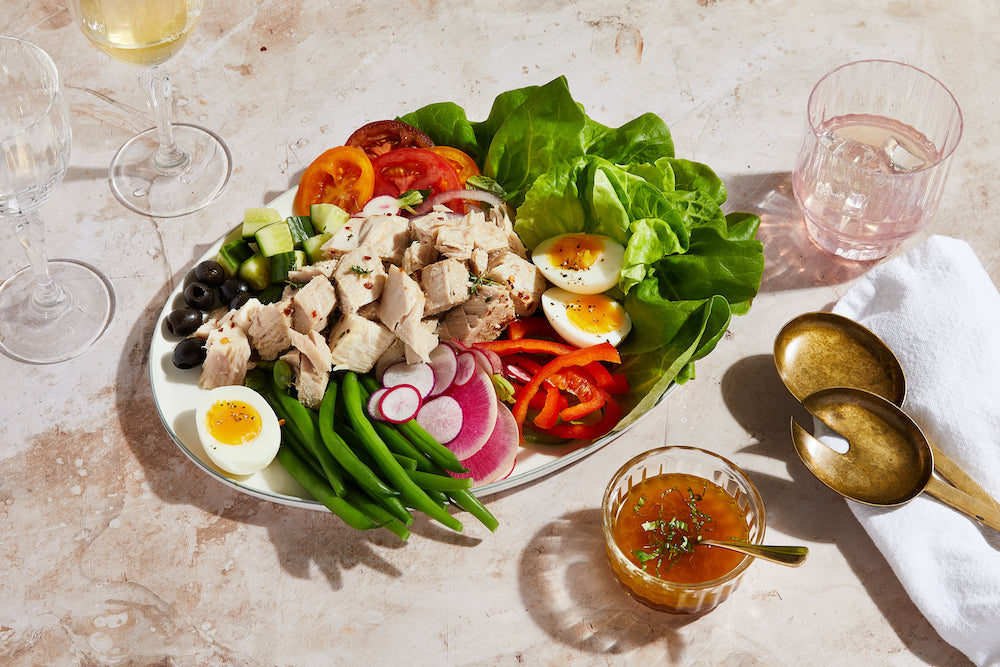 Even though Salad Niçoise is a classic French dish, it's hardly untouchable. Some prefer it with green beans (or haricot verts, as the French would say) and some insist on fava beans. Potatoes or no potatoes? You decide. Even the dressing has many options. But what makes our Salad Nicoise stand out from the usual is our use of olive oil-poached fresh Wild Atlantic Albacore Tuna instead of tuna from a can. It's not quite traditional, but it's undeniably delicious. After you poach the tuna, feel free to play with the rest of the ingredients and make it your very own classic.
Salade Niçoise with Olive Oil-Poached Albacore Tuna
Serves 4
Ingredients for the Fish:

One 12 oz pack Sea to Table Atlantic Albacore Tuna
Extra virgin olive oil, enough to cover tuna in pan
Strips of lemon zest from ½ lemon
4 garlic cloves, smashed
1 thyme sprig
Pinch of crushed red pepper flakes
Salt and pepper

Ingredients for the Vinaigrette:

2 tablespoons red wine vinegar
Pinch salt
¼ cup extra-virgin olive oil
2 small cloves garlic, minced
5-8 basil leaves, chopped

Ingredients for the Salad:

Fresh fava beans (or green beans)
½ head of bibb or boston lettuce
3 medium tomatoes, sliced and gently salted
3-5 radishes, sliced
½ red or green bell pepper, sliced
½ small cucumber, peeled, seeded, and sliced
¼ red onion, peeled and thinly sliced
¼ cup pitted black olives
2 seven-minute eggs (a.k.a. just barely hard-boiled), peeled and quartered
Fish Preparation:
Defrost the fish in the refrigerator for about 24 hours. Pat it completely dry with paper towels when thawed.
Let the tuna sit a room temperature for 20 minutes or up to 1 hour (if the fish is too cold it will lower the temperature of the hot oil drastically).
Preheat the oven to 225F.
In an ovenproof pan, heat the oil and aromatics over low heat until the oil reaches 120-130°F. Use a candy or instant-read thermometer to monitor the temperature. If the oil becomes too hot you can add more oil to cool it down or simply wait until the temperature has dropped.
Submerge the albacore in a single layer in the oil and transfer the pan to preheated oven. Poach the tuna for 20 minutes.
Remove fish from oil and separate into flaky pieces with a fork. Salt and pepper to taste.
Vinaigrette Preparation:
Stir the vinegar and salt together in a small bowl until the salt is dissolved. Stir in the olive oil, then the garlic and basil.
Salad Assembly:
Shell the fava beans and blanch them in boiling salt water for 2-3 minutes. Transfer beans to a bowl of ice water to stop the cooking process. Then remove the translucent skin of each bean. (If using green beans, trim the ends then blanche)
Arrange all the ingredients on a platter and drizzle with the dressing
Place the poached albacore tuna on top
---
← Older post Newer post →