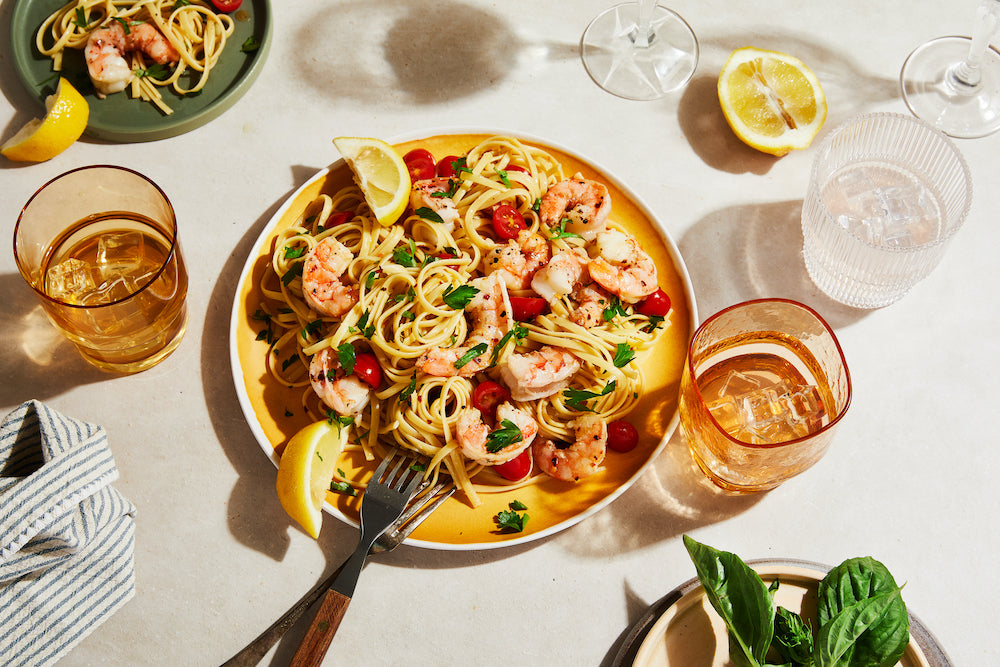 Does the world really need another Garlic Shrimp Linguine recipe? We think it does. Because when it comes to a simple dish like this, the difference between "so-so" and spectacular lies in the quality of the shrimp. Our Wild Gulf Shrimp are sweet, firm, succulent… and did we mention domestic and sustainable? They shine in this not-so-classic Scampi, garnished with a scattering of summer's ripest tomatoes. It's on the table in the time it takes to boil your pasta, and it's absolutely, mind-bogglingly delicious.
This recipe works with either our Jumbo Easy-Peel Wild Gulf Shrimp (pictured in photo), or our regular Wild Gulf Shrimp.
Garlic Shrimp Linguine
Serves 3
Ingredients:
One 12-count pack Jumbo Easy-Peel Wild Gulf Shrimp, de-shelled, or one 10-ounce pack regular Wild Gulf Shrimp
6 oz Linguine
2 tbsp Butter
2 tbsp Olive Oil
3 Garlic cloves, minced
Pinch chili flakes
1 Handful Flat leaved parsley, chopped
Zest and juice from ½ lemon
¼ cup pasta water
Salt and Pepper to taste
Handful fresh cherry tomatoes, cut in halves (optional)
Preparation:
Defrost and peel the shells from your shrimp (if applicable). Season with salt and pepper.
Cook the linguine in a large pot with salted water. Follow the instructions of the packet to cook the pasta al dente.
Meanwhile, in a large pan melt the butter and olive oil over medium low heat. Add garlic and sauté for a minute.
Add shrimp and red pepper flakes. Saute until shrimp has turned pink, about 4-5 minutes.
Drain the cooked linguine, reserving ¼ cup of pasta water.
Remove pan with shrimp from heat. Add parsley, lemon zest, lemon juice, salt and pepper to taste and a splash of the reserved pasta water. Add the fresh tomatoes, toss with the sauce, and serve.
---
← Older post Newer post →