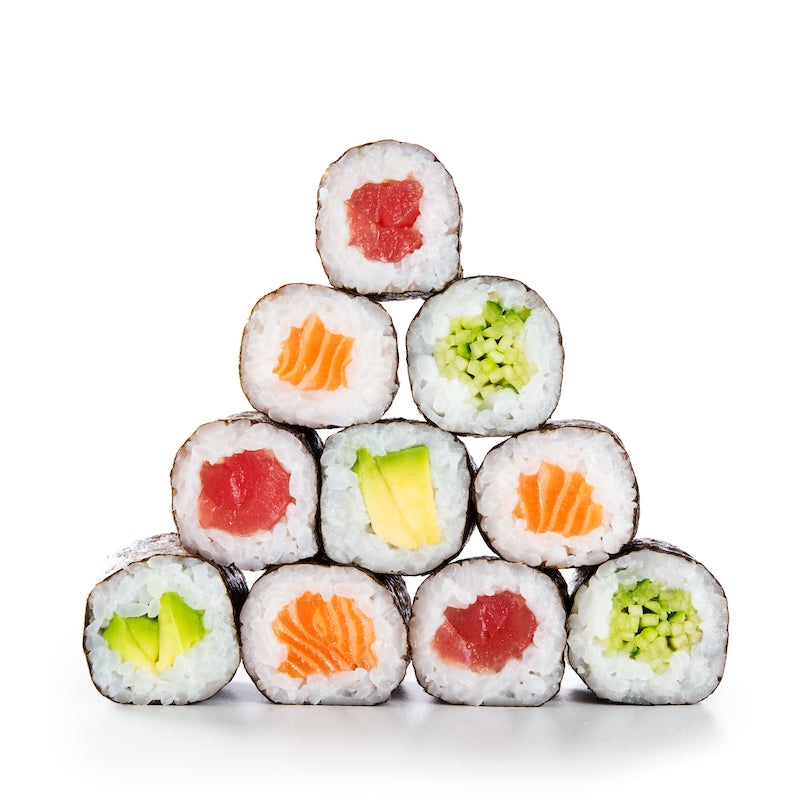 The thought of making sushi at home can be intimidating. After all, sushi is an art form that chefs can take a lifetime to master. So what if your homemade sushi will never be at the level depicted in "Jiro Dreams of Sushi"? At its simplest, sushi is an astonishingly easy and satisfying meal to make at home. Just start with some impeccable sushi-grade fish from Sea to Table, put on some rice, assemble your ingredients and you're ready to roll!
Sea to Table Sushi
Serves 2
Ingredients
1 C short-grain sushi rice
1 1/2 C water
2 t sugar
1/2 t sea salt
2 T rice vinegar
2 to 3 oz Wild King Salmon
2 to 3 oz Wild Atlantic Albacore
1/3 cucumber
1/2 avocado
3 sheets nori
soy sauce
wasabi
Sushi Rice Preparation
Prepare rice according to the directions on your package or rice cooker. While rice cooks, whisk together sugar, salt and vinegar. Transfer cooked rice into a large mixing bowl and drizzle with seasoned vinegar. Gently fold liquid into rice by lifting and turning. Cover bowl with a towel and allow to cool to room temperature, about 20 minutes.
Filling Preparation
Defrost fish. Remove skin from the salmon and slice into long, thin strips. Slice the tuna similarly. Peel the cucumber and avocado and slice into long, thin pieces.
Assembly
Have a bowl of water at the ready to prevent the rice sticking to your hands.
If you are using a sushi rolling mat, cover it with plastic wrap and lay a sheet of Nori on it, shiny-side down. Grab a small handful of sushi rice. Cover the bottom three-quarters of the nori sheet with a thin layer of rice, leaving the top quarter of the nori sheet empty. Make a groove in the rice and lay several strips of vegetable and fish in a thin layer on top. Begin rolling your sushi, gently tucking the roll in on itself. Dip your fingers in water, and dampen the exposed edge of nori so that the roll will seal.  
Tip: If you are a novice, there are lots of simple tutorials on YouTube!
Repeat with remaining ingredients.
Place sushi rolls on a platter and refrigerate for about 5 minutes. When rolls have been chilled, use a very sharp knife to cut the log into slices. Serve with soy sauce and wasabi for dipping.
Irasshaimase!
Fun bonus suggestion: search online for "sushi bazooka" (see image below). These gadgets make the assembly process even simpler. Spread ½ cup cooked rice in each half of the bazooka. Arrange seafood on top of rice on one side and vegetables on the other side. Close and secure clips. Place nori sheet on a sushi roller, plate, or piece of waxed paper. Carefully push the plunger to extrude the filled rice roll onto the center of the nori sheet. Roll the nori around the roll, dampening the edges to secure.
---
← Older post Newer post →