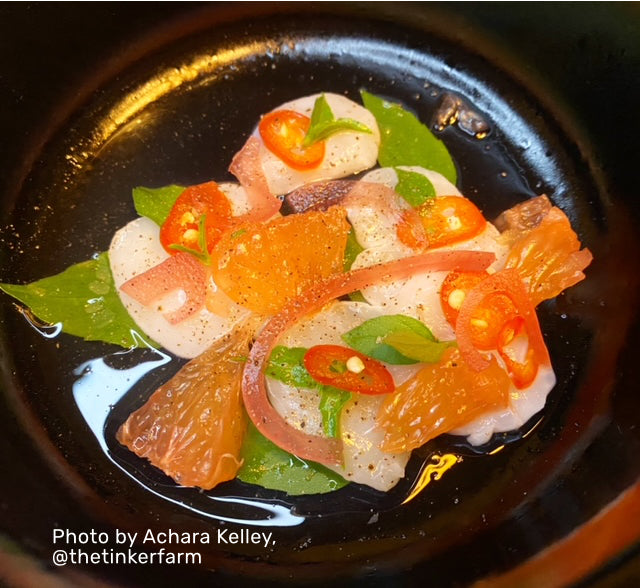 So what, exactly, is crudo? Crudo, which translates to "Raw" in Italian, is a dish of sliced raw fish or shellfish in a simple dressing to highlight and enhance the flavor of perfectly fresh seafood. Grocery store fish just won't cut it for Crudo. You need immaculate seafood, either fresh from the dock, your local fishmonger, or Sea to Table. Sea to Table's offerings are flash-frozen at the peak of freshness, preserving all the flavor while eliminating the potential for parasites, making it perfectly safe to eat raw.
The traditional method of preparing Crudo is thinly slicing your fish and dressing it with a simple drizzling of high-end oil with a hint of fresh herbs and citrus for bitter, sweet and acidic elements. Although almost any fresh fish can be transformed into a Crudo, our favorites are Sea to Table's Wild Salmon, Wild Atlantic Albacore Tuna, Wild Gulf Shrimp, and especially our Wild Atlantic Sea Scallops.
Sea to Table customer Achara Kelley likes to prepare a simple Scallop Crudo with grapefruit, herbs and pickled onions. As she describes it, "The combination of the sweetness from the scallops and the slight bitterness and tangyness from grapefruit creates this perfection while the funkiness from the pickled red onions and the aroma from the lemon basil boost this crudo to another level of depth."
Scallop Crudo with Grapefruit
Serves 6 (as an appetizer)
Ingredients
1 pack of Sea to Table Atlantic Sea Scallops
1 grapefruit, supremed (pith and membrane removed) and sliced into bite size pieces
Juice of ½ grapefruit
⅓ cup pickled red onions
¾ teaspoon flaked sea salt such as Maldon or Trapani
⅓ cup top quality Extra Virgin Olive Oil
About 20 basil leaves, roughly chopped (preferably lemon basil)
Sliced red Thai chili peppers to taste (optional)
Preparation:
Thaw scallops in refrigerator for 24 hours. Rinse gently and pat dry.
Slice each scallop into about 4 thin slices horizontally (so they are circles).
Combine the grapefruit, juice and onion with the scallops.
Divide the basil leaves between six plates, and top with the scallop mixture.
Drizzle the olive oil over the scallops. It's important to use the very best olive oil because you want the herbacious quality of the oil to enhance the citrus. Sprinkle with the salt and chilies, if using.
So grab your knife, some great olive oil, your favorite citrus, some herbs and of course your favorite Sea to Table seafood and see what you can create!
---
← Older post Newer post →