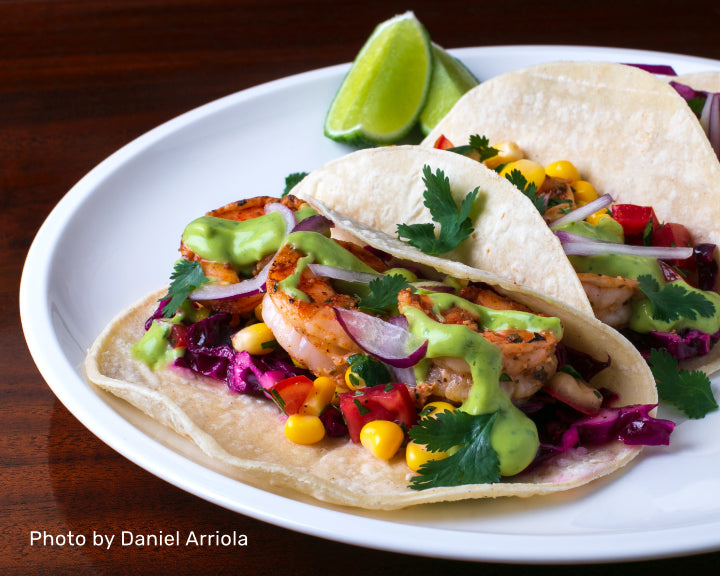 We love it when our customers send us the recipes they make with our seafood, and we just had to share this shrimp taco recipe from Sea to Table customer Tara Keefe. Tara recommends using our Jumbo Easy Peel Wild Gulf Shrimp, but this recipe would work equally well with our pre-peeled Wild Gulf Shrimp.
Note: this recipe differs slightly from the photo above.
Shrimp Tacos with Cilantro Slaw
Serves 2
For the Shrimp:

1 package of Sea to Table Wild Gulf Shrimp or Jumbo Easy Peel Wild Gulf Shrimp
1/4 cup olive oil
1 lemon, juiced
1 garlic clove, minced
1 tsp salt
1/2 tsp pepper
1 tbsp chopped parsley
2 tsp hot sauce
3 tbsp brown sugar
1 tsp paprika

For the Slaw and Sauce

1 cup nonfat plain Greek yogurt
2 tbsp olive oil
1/2-1 clove garlic, peeled
1/2 small jalapeño, seeds removed
1/4 cup or more cilantro leaves
zest and juice of 1 large lime
2 cups shredded cabbage or slaw mix
Shrimp Preparation:
Defrost the shrimp in the refrigerator for 24 hours. When thawed, pat the shrimp completely dry.
Mix all of the above "for the shrimp" ingredients in a bowl, and marinate shrimp for 20 minutes.
Grill on grill pan on medium to medium-high heat for ~2 mins or less per side
Slaw and Sauce Preparation:
Blend all of the above "for the slaw and sauce" ingredients EXCEPT the cabbage in food processor or blender.
Mix 1/2 with cabbage. Serve 1/2 on side when serving.
Assembly
Small flour tortillas, warmed.
Serve with your favorite salsa, hot sauce, and optional sliced jalapeños, along with surplus cilantro-yogurt sauce (see below).
---
← Older post Newer post →