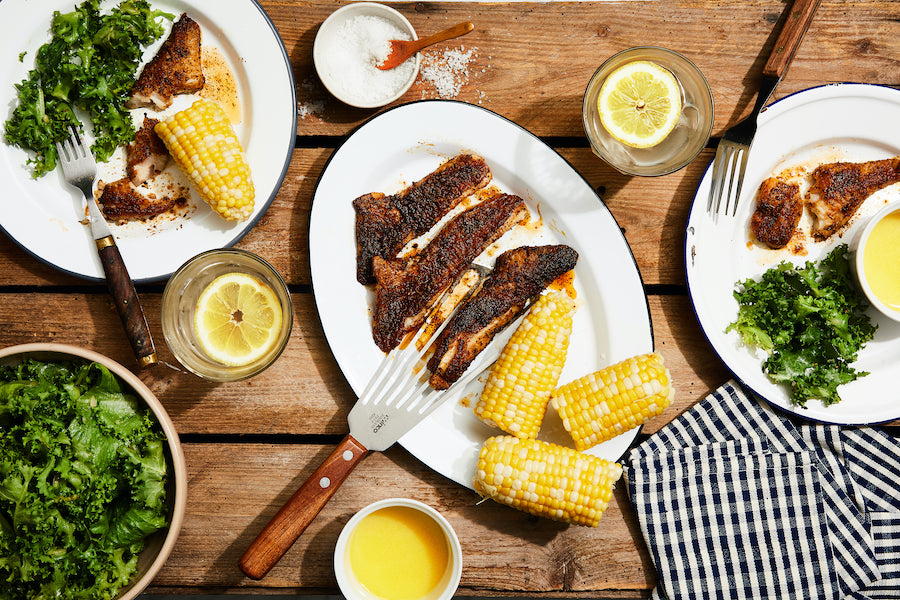 The Blackening technique was invented by Chef Paul Prudhomme and it is simply searing fish that has been dipped in butter and seasoned, over high heat in a cast iron skillet. The combination of butter, high heat, and seasoning develops a dark crust on the fish that gives a characteristic look and flavor.
Blackened Gulf of Maine Redfish
Serves 2
Ingredients:

12 oz Sea to Table Gulf of Maine Redfish fillets
1 stick European style butter, melted and preferably clarified*
Blackening Spice mix**:

1 tbsp. Sweet paprika
1 tsp. Salt
1 tsp. onion powder
1 tsp. garlic powder
1 tsp. freshly ground black pepper
1/2 teaspoon ground white pepper
1⁄2 tsp. dried thyme
1⁄2 tsp. dried oregano
½ tsp. Cayenne
Preparation:
Defrost the fish in the refrigerator then pat it completely dry.
Clarify your butter and place in a shallow bowl/dish. Mix all the spices together in a separate bowl.
Dip both sides of the fish into the clarified butter and place on a parchment paper-lined sheet tray. Dust each butter drenched filet generously on both sides with spice mixture, pressing spices into fish. Pour remaining butter into a small bowl for serving.
Heat a cast iron pan over high heat until it is extremely hot. Place 1-2 fillets in the pan, skin side up. Cook for 3 minutes then gently flip the fish over and cook for an additional 3 minutes. You're looking for a dark, crusty char on each side.
Serve hot with corn on the cob, green salad and/or potatoes
*Clarified butter can tolerate high heat much better than simply melted butter. To clarify butter you skim milk solids off the top of melted butter and leave released water in the bottom of the pan. The liquid gold in the middle is 100% pure butterfat! 1. Melt butter over low heat, make sure it does not boil. Skim off the foamy milk solids that rise to the top. 2. Ladle the butterfat from the saucepan into a clean vessel. Be sure to leave the water in the bottom of the original saucepan (it will look like a white, milky substance).
** You can buy a ready-made blackening spice in most grocery stores.
NOTE: There's a big difference between blackened and burned so don't overcook your fish. To avoid a burned, bitter taste, wipe out the skillet between batches.
---
← Older post Newer post →