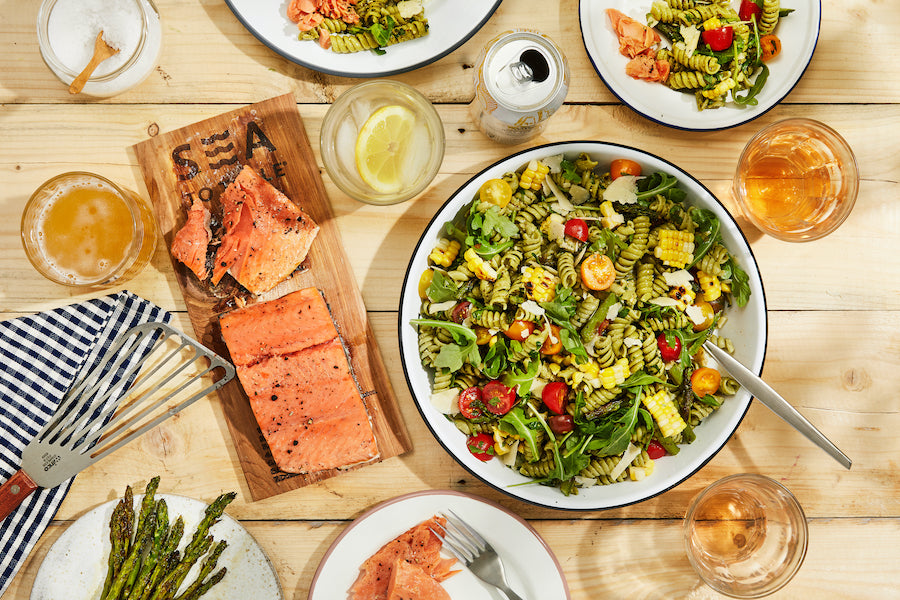 Tender fish and a fresh non-mayo pasta salad is a combo nobody can pass. Deliciously simple and comes together in 30 minutes. Perfect for picnics and potlucks!
Cedar Plank-Grilled Alaska Coho Salmon with Fresh Pasta Salad
Serves 4-6
Ingredients for the Fish:
Ingredients for the Pasta Salad:

1 package Rotini pasta (or similar)
2 corn on the cob
1 bunch asparagus
10 oz cherry tomatoes, halved
2 cups arugula, roughly chopped
3 tbsp fresh mixed herbs (parsley, dill, lovage and/or mint), finely chopped
2 tbsp of your favorite pesto (store bought or homemade)
Juice from 1 lemon
Parmigiano Reggiano, shaved
Olive oil
Salt and Pepper
Fish Preparation:
Defrost the fish in the refrigerator for about 24 hours. Pat it completely dry with paper towels when thawed.
Soak the cedar planks for 15 minutes in water. Then pat dry lightly. Preheat you grill to 400F.
Pat the salmon dry then season with salt and pepper. Place, skin side down, on the cedar plank. Grill* with lid closed for about 12 minutes or until the fish is tender and flaky.
Serve alongside, on top or mixed into our Kelp Pasta Salad (recipe follows).
Pasta Salad Preparation:
Boil the pasta following the directions on the box (no need to add salt as the seaweed adds the salt for you). When cooked, drain and refresh under cold water.
Toss the asparagus with little olive oil, salt and pepper. Grill along with the corn and fish until tender.
Cut the corn off of the cob and the asparagus into bite sized pieces before tossing with the cold pasta along with pesto, tomatoes, arugula and herbs.
Add lemon juice, Parmigiano, salt and pepper to taste.
Tip: *Keep a spray bottle with water close by as the plank sometimes catches fire. Simply spritz flames with water.
---
← Older post Newer post →