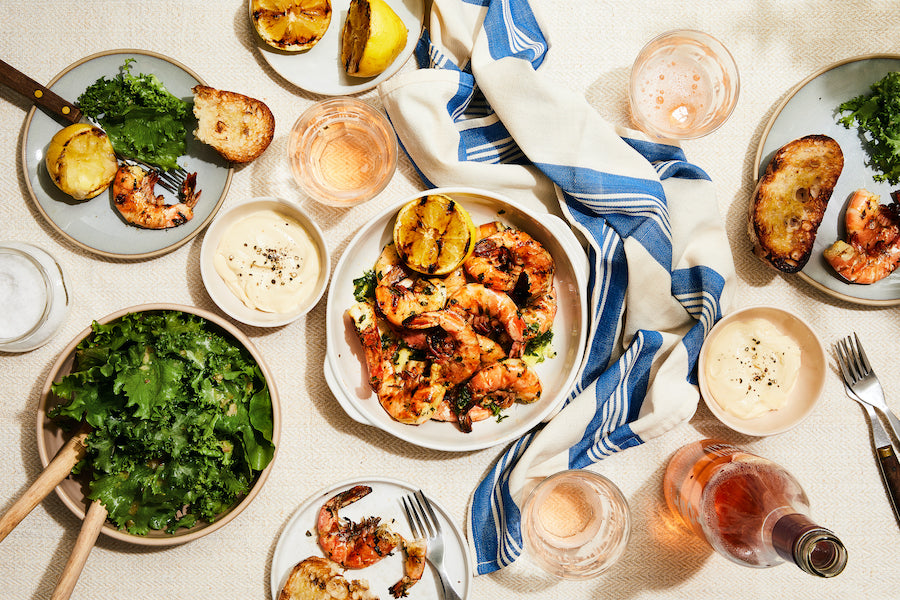 An easy peasy summer crowd pleaser! Cooking shrimp in the shells protects the sweet meat inside, keeping them tender and succulent. Sea to Table's Jumbo EZ Peel Wild Gulf Shrimp comes deveined, and the shell is a breeze to remove at the table.
Grilled Jumbo Wild Gulf Shrimp
Serves 2
Ingredients:

¼ cup olive oil
Juice from one orange
3 cloves Garlic, minced
2 tbsp fresh mint leaves, finely chopped
2 tbsp fresh flat leaved parsley, finely chopped
1 tbsp fresh dill, finely chopped
Salt & Pepper
2 Lemons, cut in halves
Preparation:
Defrost the shrimp under refrigeration. Then gently pat the shrimp dry with a paper towel.
Stir together olive oil, orange juice, garlic, herbs, and a good pinch of both salt and pepper. Toss the shrimp (shell on) in the marinade and let sit for 15-30 minutes.
Grill your shrimp over 450 degrees for about 2 minutes each side, flipping once. Place the lemons on the grill cut side down until nicely charred.
Serve the shrimp on a platter with bread, salad and dipping sauce, peeling as you go with a generous squeeze of grilled lemons.
SIDES: Serve with aioli or your favorite dipping sauce of choice, crusty bread, and a crunchy green salad with a light vinaigrette.
---
← Older post Newer post →