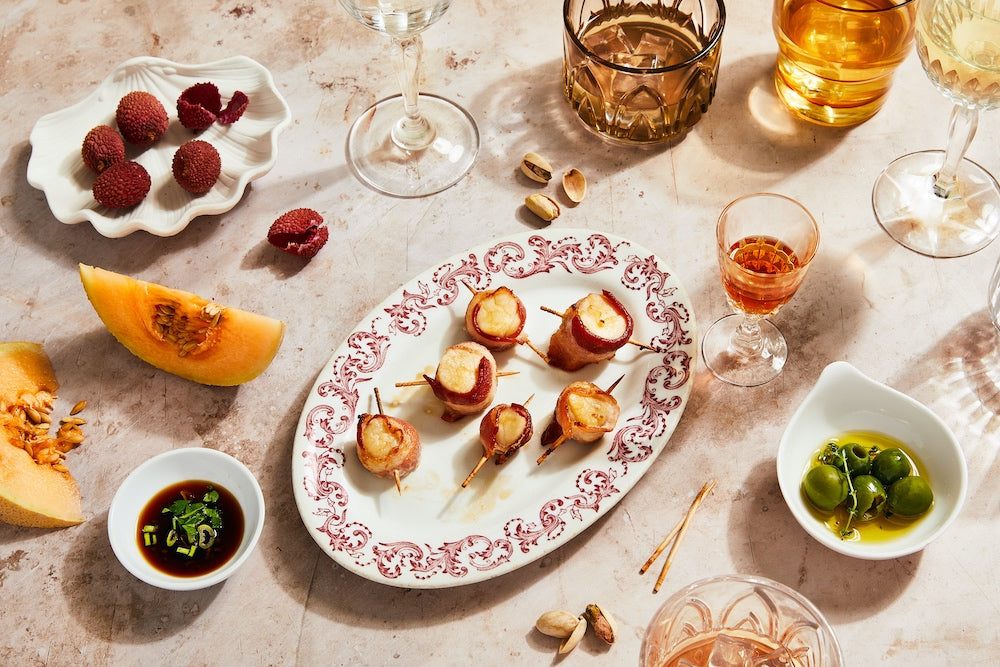 We're pretty proud of our Atlantic Sea Scallops. All natural, dry-packed and bursting with the mild, briny flavor of the sea. But everything is better with bacon! These decadent little bites are great served with asparagus for an easy, yet fancy dinner. Better yet, pass them as appetizers for your next cocktail party.
Bacon-Wrapped Sea Scallops
Serves 4-6 as an appetizer
Ingredients:

8–10 thin and lean bacon slices, halved crosswise
Toothpicks
1 tbsp Soy sauce
1 tbsp maple syrup
1 small clove garlic, minced
1 scallion, white and light green parts finely sliced
Flat-leaved parsley or cilantro, chopped
Preparation:
Defrost your scallops overnight in the fridge and pat them dry (or use our Quick Thaw Method).
Preheat the oven to 425F and coat a sheet pan with cooking spray.
Wrap ½ slice of bacon around each scallop and secure with a toothpick. Arrange the scallops in an upright position, in a single layer on the baking pan.
In a small bowl, mix together the maple syrup, soy sauce and garlic. Brush the sauce on top of each of the prepared scallops.
Bake for 10 minutes, then turn on the oven broiler on high and give the bacon scallops an additional 3-4 minutes to crisp up the bacon.
Sprinkle with scallion and parsley/cilantro, and serve while warm with the remaining sauce for dipping.
---