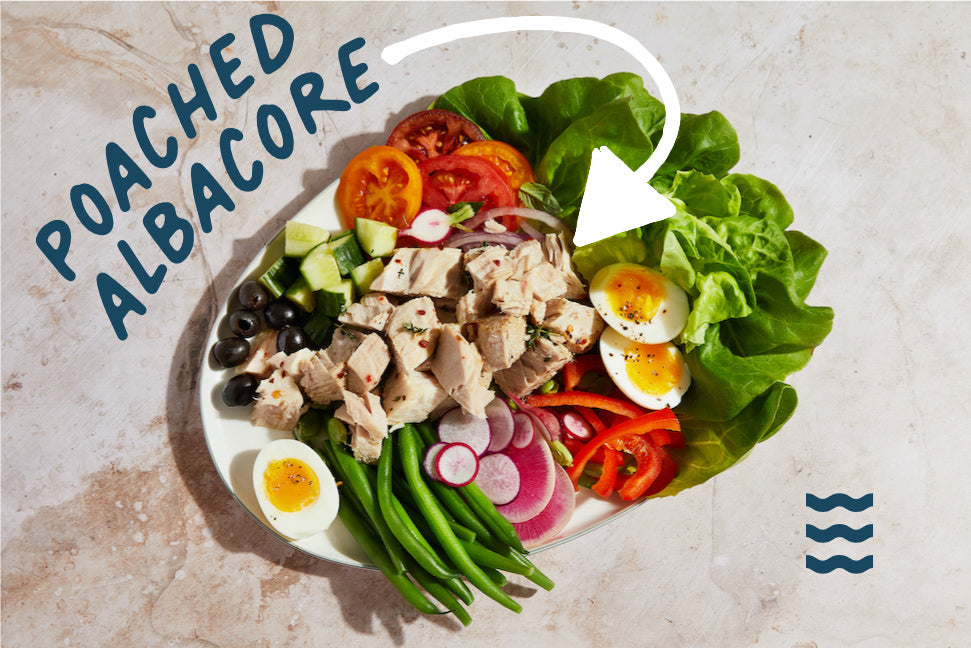 What is Poaching? 
Poaching is a cooking technique that involves heating food submerged in a liquid. Poaching is differentiated from the other "moist heat" cooking methods, such as simmering and boiling, in that it uses a relatively lower temperature. The low temperature makes poaching particularly suitable for delicate food, such as eggs, poultry, and fish, which might easily fall apart or dry out using other cooking methods. 
The Best Way to Poach Fish
You may think that poached fish would be bland and boring, but that couldn't be further from the truth. It gets a bad rap because often, it's cooked in plain water, which is a wasted opportunity to infuse flavor into the fish. So, here's the trick: the next time you are poaching fish, try using a tasty cooking liquid, like broth, butter or olive oil… even milk!
Take your poaching game to the next level by adding aromatics, like onions, fresh herbs, garlic or citrus. Your fish will turn out moist and tasty every time, as long as you follow a few simple rules.
Three Simple Rules for Poaching Fish
Use enough of whatever poaching liquid you choose to completely cover your fish. 
Never boil! The best temperature for poaching fish

is 140 degrees. For best results, you'll want to monitor this with a cooking thermometer. If your temperature never rises above 140, it's impossible to overcook your fish. Science! 
Timing. Most fish will take about 10 minutes to cook perfectly, with an opaque center and flaky texture. If you leave it in a little longer, no worries. See above.
Our Favorite Kinds of Fish to Poach 
Poaching is a good technique for cooking lean fish like cod, sole, or halibut as well as fatty fish like salmon or tuna. But since the best recipes start with the best fish, we especially like these sustainable choices from Sea to Table:
So if you are looking for a new, simple way to cook your seafood, poaching might be your new best friend. It's an elegant, healthy meal that's quick to boot. Try it tonight!
---
← Older post Newer post →