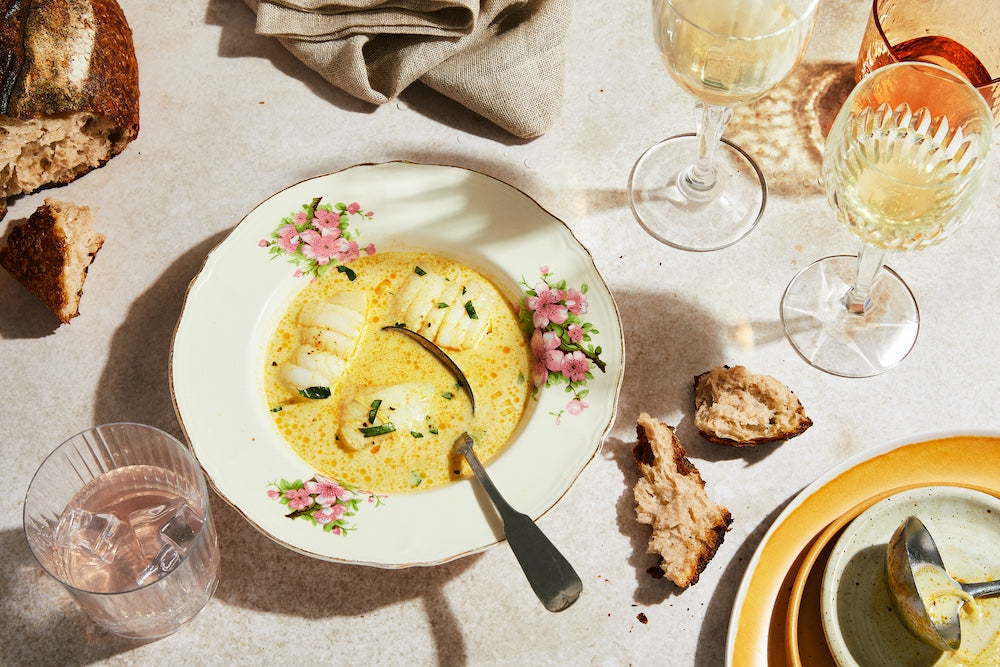 A lighter take on a traditional fish chowder, this creamy soup gets its elegant flavor from the sautéed aromatics and a splash of sherry, and the pinch of turmeric adds brightness and a bit of color. We're using our West Coast Dover Sole for the fish. It cooks quickly and compliments, rather than overpowers, the more subtle ingredients. It's a great dish to make for those cooler evenings when nothing but a light, comforting soup will do.
Fish Soup with Dover Sole
Serves 4
Ingredients:

1 tbsp olive oil
½ onion, minced
½ leek, finely sliced
1 stalk celery, finely sliced
Pinch turmeric
1 tsp tomato paste
¼ cup dry white wine or vermouth
¼ cup sherry or port
4 cups fish or vegetable stock
1 pack (16 oz) West Coast Dover Sole, cut into bite sized pieces
Salt and pepper to taste
½ cup heavy cream
Fresh parsley for garnish
Preparation:
Let the fish defrost in the refrigerator for over night (or use our Quick Thaw Method). Then cut into bite-sized pieces and sprinkle with salt and pepper.
Sauté onion, leek and celery in the olive oil over medium heat for about 5 minutes. Add turmeric, tomato paste and generous pinch of salt and pepper. Stir.
Add sherry and wine and let reduce over medium heat, 3-5 minutes.
Add stock, bring to a boil for about 12-15 minutes.
Add fish and let simmer over medium heat for an additional 5 minutes.
Remove pot from heat and stir in cream. Salt and pepper to taste. Garnish with parsley.
Serve warm with crusty bread.
---
← Older post Newer post →