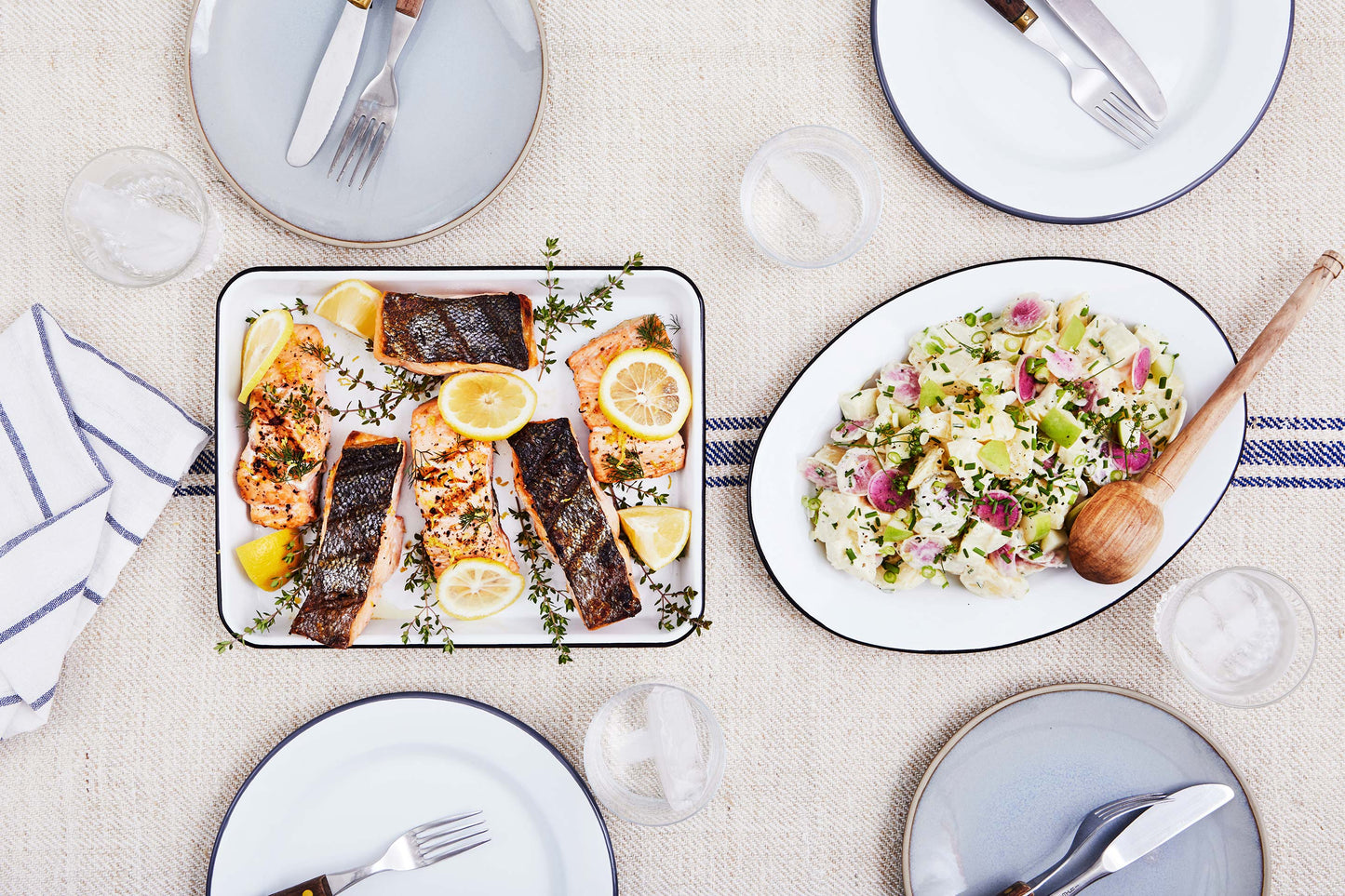 The King is here! The King is here! What do you serve when the King shows up for dinner? A simple potato salad and a quick cook over an open fire. You know how they say never try to show up the bride on her wedding day? Well, the same goes for Wild Alaska King Salmon. We're keeping it simple here and letting the fish speak for itself. And if Alaskan King Salmon could speak, they would say Yum.
Grilled Alaska King Salmon with Potato Salad
Serves 2
For the Fish:

2 pieces (about 5 oz each)
Sea to Table Alaska King Salmon (skin on)
Salt and Pepper
Olive Oil
Lemon zest
Lemon slices and fresh herbs for garnish (optional)

For the Potato Salad

12 oz potatoes
2 tbsp sour cream
1 tbsp olive oil
½ tbsp dijon mustard
1 tsp honey
Salt and Pepper
1 Green apple, cut into cubes
1 bunch radishes, shaved thin
Chives, minced
Fish Preparation:
Defrost the fish in the refrigerator for 8 hours. When thawed, pat the fish completely dry.
Salt and pepper both sides of the fillets and generously brush the skin side with olive oil. Grate lemon zest over the flesh side
Heat your grill to medium/high (400 F) and make sure the griddle is clean and well greased. TIP: a good way to grease the griddle on the grill is to soak a paper towel in oil and use the grill tongs to rub the soaked paper over the griddle.
Grill for 9-10 minutes and you will get super crispy skin and moist medium/rare fish. Should you fancy grill marks on the flesh, flip the fish after 7 minutes and give it 2 minutes before removing from the grill.
Serve skin side up so you do not lose the crispness off the skin.
Garnish with lemon slices and fresh herbs if you desire.
Potato Salad Preparation:
Peel the potatoes and cut them into similar sized pieces and then boil them in lightly salted water until tender, about 8 minutes (cooking time depends on the size of the potato pieces).
Stir together sour cream, olive oil, mustard and honey, and salt and pepper to taste.
Toss the potatoes, apple and radishes with the dressing. Garnish with chives.
---
← Older post Newer post →