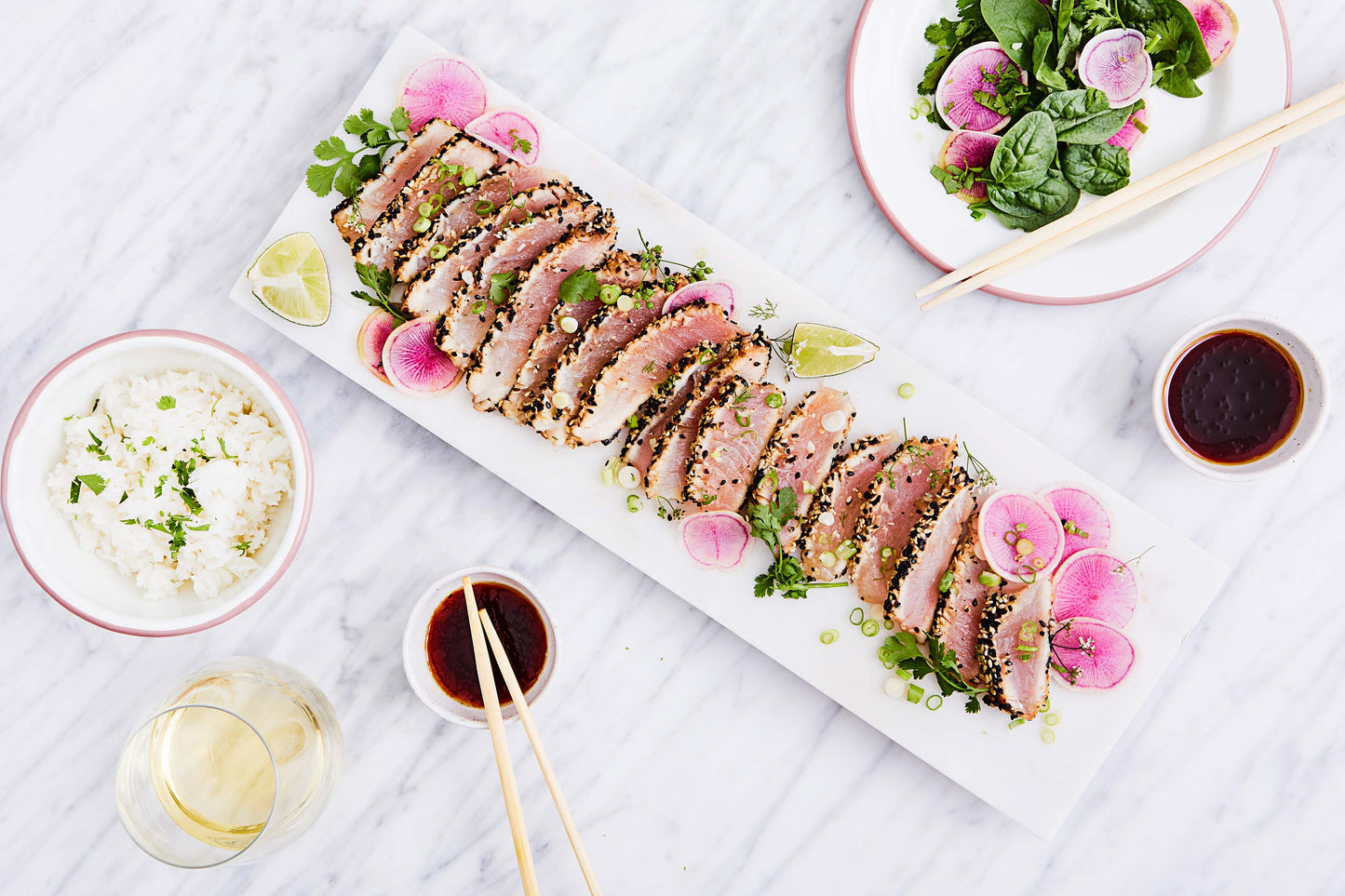 Seared Tuna, cooked ever so quickly ("black and blue" in chef speak), is found on restaurant menus across the country and across the globe. But all too often that's where the tuna also come from—somewhere across the globe. Sourcing only the finest wild-caught American Tuna from the US Atlantic Ocean makes this simple take on a restaurant classic even more appetizing, clean and worthy of applause when you set it down on the table.
Seared Sesame Crusted Tuna
Serves 4-6 as an appetizer or 2-3 as a main course
For the Fish:

12 oz Albacore Tuna (2 medallions at 6oz each)
Oil (canola, peanut or grapeseed)
3 tbsp Soy sauce
3 tbsp white sesame seeds
3 tbsp black sesame seeds
Scallion greens for garnish

For the Dipping Sauce:

2 tbsp soy sauce
2 tbsp rice vinegar
2 tbsp boiling water
2 tsp sesame oil
2 tsp sugar
Wasabi (optional)
Preparation:
Start by making the dipping sauce: Mix all the ingredients together in a bowl, then divide into smaller dipping bowls (one for each person) for serving
Pour 3 tbsp soy sauce in a shallow bowl and place the sesame seeds in another. Dip the tuna into the soy sauce first and then into the bowl of sesame seeds. Press the sesame seeds onto the tune until they stick and have formed a "crust".
Heat the oil in a pan until smoking hot (and we mean until smoke starts to come off the pan).
Place the tuna in the piping hot pan and press your spatula gently on top of the fish to ensure an even sear. After 1 minute flip the tuna and give it an additional one minute on the other side. It is a good idea to, again, gently press down the fish with your spatula for a few seconds.
You can stand the medallions up and sear the sides for a few seconds but that is not necessary.
Remove the fish from the pan and let rest for 1 minute before slicing into ⅛ inch slices.
Garnish with thinly sliced scallion greens.
Serve immediately with dipping sauce and wasabi if you'd like to add some heat.
TIP: this tuna is excellent with a simple avocado salad, with rice or in a  poke bowl.
---
← Older post Newer post →