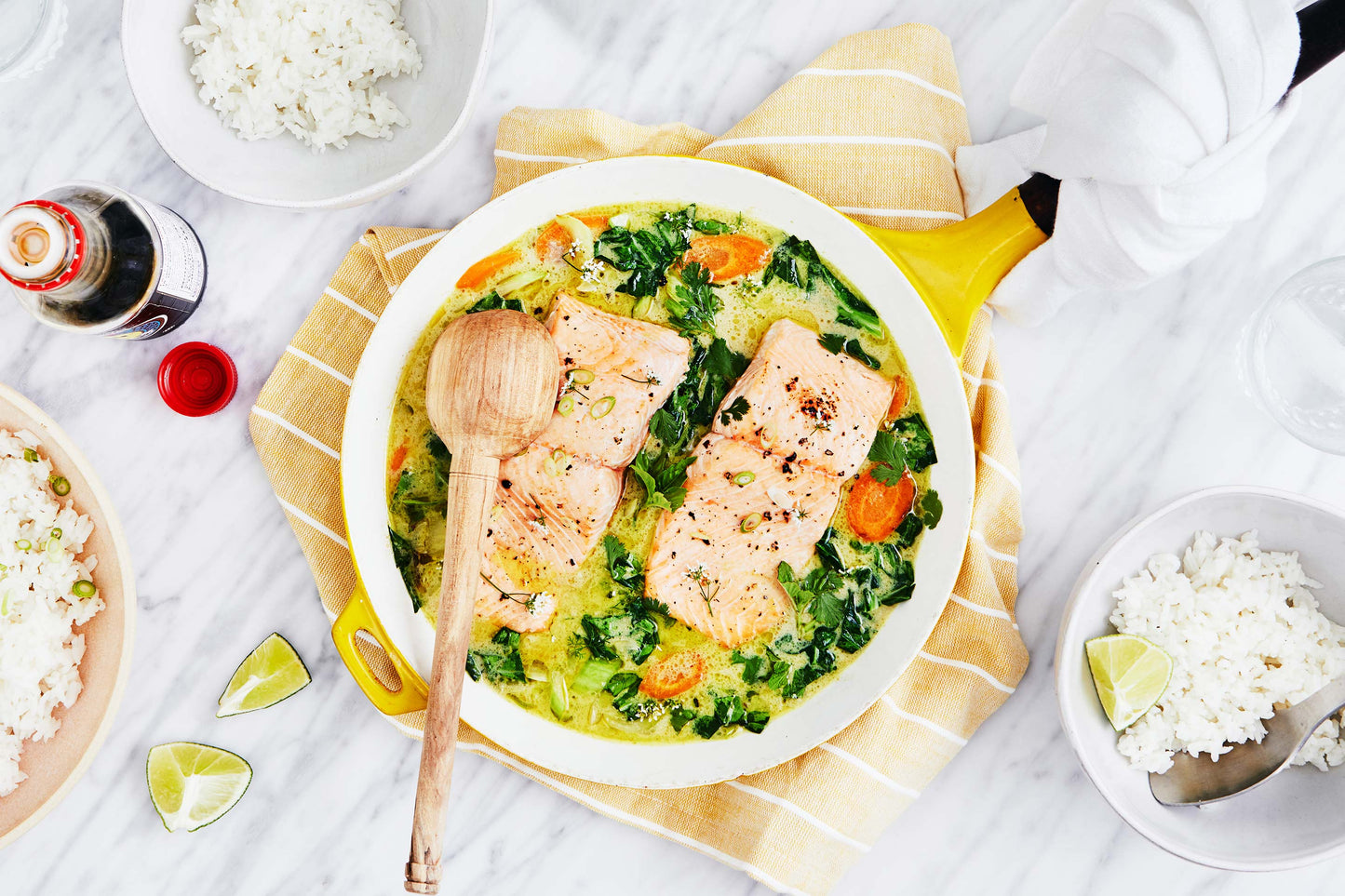 Light and bright yet so satisfyingly filling! Fish Curries are a staple across much of the world, each with their own take on subtle spices and flavors. Ours is an adaption of a traditional Thai Fish Curry, and while we show Wild Alaska Coho Salmon for this version, don't think twice about using Northwest Pacific Cod, Wild Gulf Shrimp (yum!) or just about any other fish or seafood in this versatile and simply delicious dish.
Green Curry Sockeye Salmon
Serves 2
For the Fish:
For the Curry:
2 tbsp Coconut oil (or other oil of choice)
2 Baby Bok Choy, bulb and leafs separated, rinsed well and both roughly chopped
2 carrots, sliced diagonally into ¼ inch slices
4-6 Scallions, thinly sliced - dark green part separated from white and light greens
1 clove garlic, minced
½ tbsp grated ginger
2 tbsp Green (or red) curry paste
1 can unsweetened coconut milk
Fish sauce and/or Soy Sauce
Lime
Fresh herbs such as cilantro and (thai) basil for garnish
Fish Preparation:
Defrost the fish in the refrigerator for about 24 hours. Pat it completely dry with paper towels when thawed.
Turn the oven broiler on high.
Line a baking sheet with foil and spray lightly with cooking spray.
Season the fish with salt and pepper and place the fish, skin side down, on the prepared sheet. Broil, a few inches below the broiler, for 4-5 minutes.
Remove fish from the oven and gently slide a spatula between fish and skin. Try not to break the fish up too much when separating from the skin.
Place skinless, cooked fish in the sauce right before serving.
Curry Preparation:
In a skillet, heat the oil and over medium heat, sautée bok choy bulbs, carrots and scallion whites/light greens for approximately 5-7 minutes or until starting to soften. Sprinkle the veggies with a small pinch of salt.
Add garlic and ginger and cook for additional 2 minutes before adding in the curry paste. Give a good stir to break up the curry paste.
Add in the coconut milk and bring to a boil. Let simmer for 5 minutes. Season the sauce with a few drops of fish sauce and/or soy sauce and lime juice to taste.
Add bok choy leaves and let cook for couple of minutes or until wilted
Add the whole fillets of cooked salmon to the pan and garnish with scallion greens and fresh herbs.
Serve hot over jasmine rice
---
← Older post Newer post →