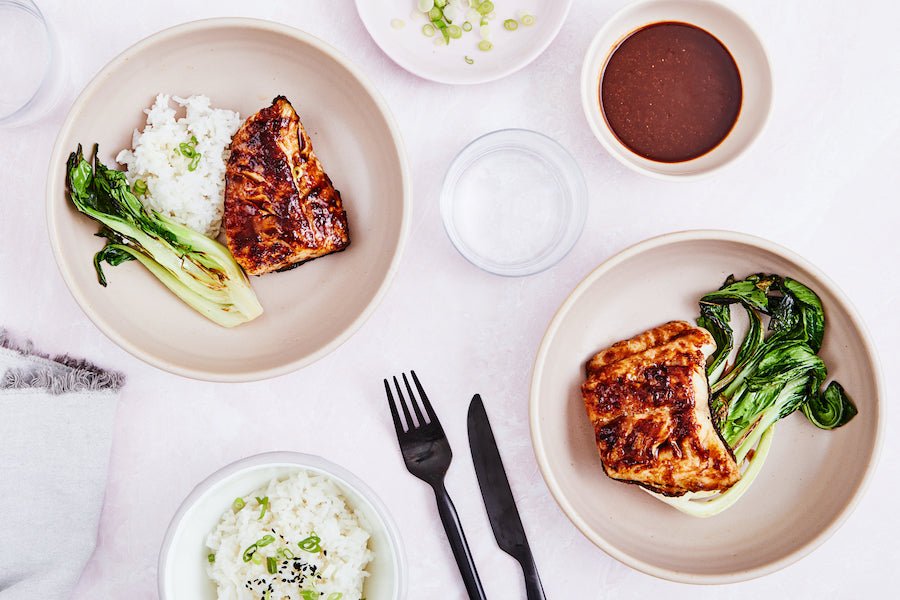 A twist on Nobu's famous Miso Black Cod, this dish is sure to please crowds. Pacific Black Cod's silky, creamy white flesh and its high levels of fatty Omega-3's make it a favorite of professional and home chefs alike. Highly versatile, totally delicious, and easy to prepare because the fat acts as a buffer against overcooking.
Miso Black Cod
Serves 2
Ingredients:

2 Pacific Black Cod fillets, skin on (two 5 oz pieces)
1 tbsp miso paste
1 tbsp brown sugar (or mirin if you have it)
1 tbsp boiling water
½ tbsp soy sauce
1 tbsp grated ginger
3 tbsp neutral tasting oil (vegetable, canola or avocado oil)
Scallions
Preparation:
Place your Pacific Black Cod in the refrigerator for a minimum of 8 hours to defrost. Then pat the fish completely dry and place it, skin side up and uncovered, on a clean plate and pop it back into the fridge for about 1 hour. This will dry up the skin to help it crisp up later.
Whisk together miso, soy sauce, brown sugar, hot water and ginger. Set aside.
Turn your broiler on high and place the rack approximately 8 inches below the heat.
Heat oil in an ovenproof skillet and when smoking hot place the fish skin side down into the pan. Press lightly with a spatula on top of the fish to prevent it from curling up.
Now brush the miso dressing generously over the fish, try not to let it drip too much into the pan as miso burns easily.
After 4-5 minutes, place the pan in the oven under the broiler for an additional 5-7 minutes or until the fish is opaque, flaky and the miso glaze has started to caramelize.
Remove fish from the oven, sprinkle with finely sliced scallions. Serve immediately over rice and/or steamed veggies along with what is left of the marinade.
---
---
← Older post Newer post →