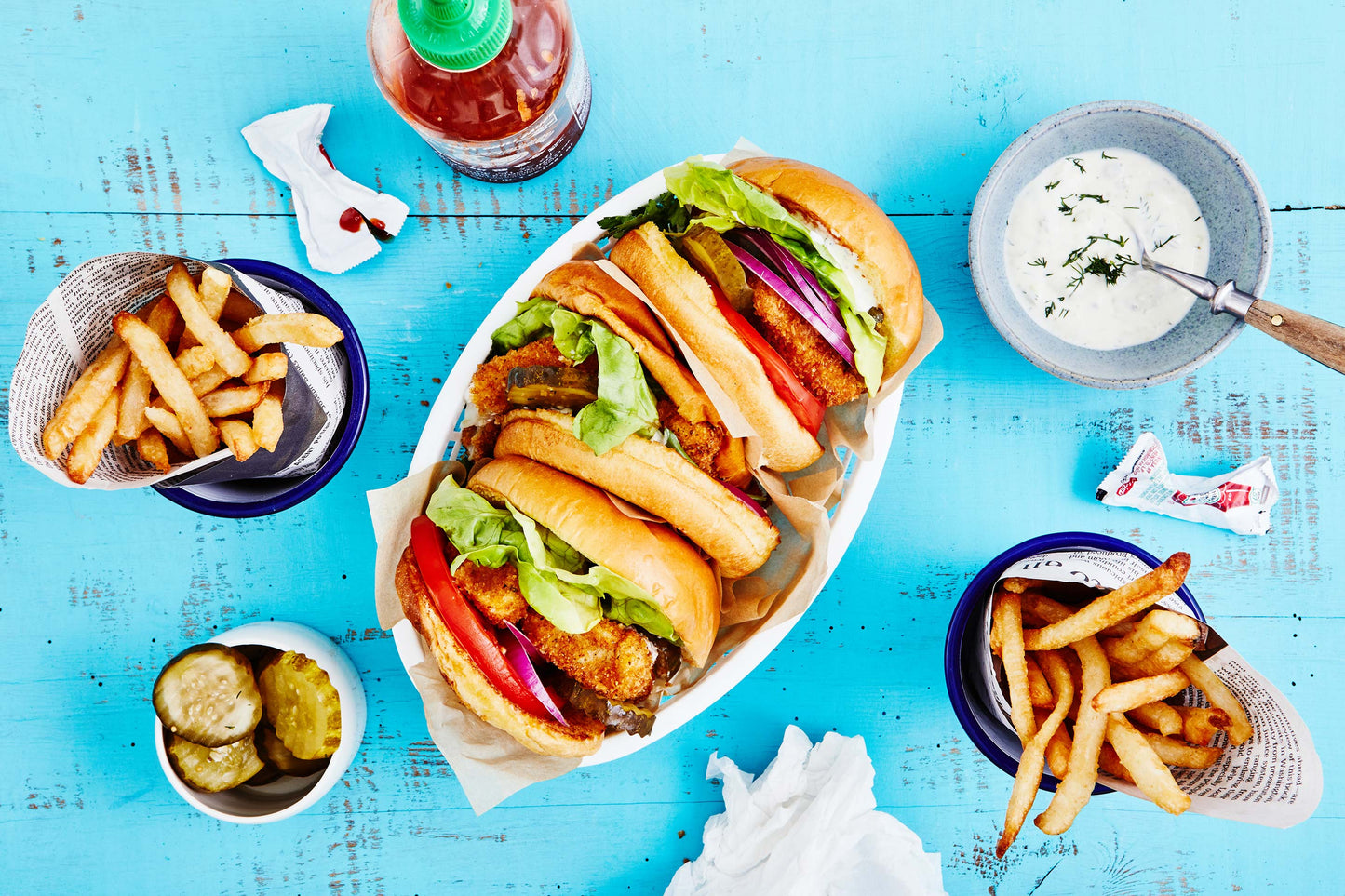 A good fish sandwich will have a better-than-generous portion of juicy, fresh tasting, deep-fried fish. The coating may be batter or crushed cracker or bread crumbs, and it should stay crisp until the last bite. There should be an equal or larger fish-to-bun ratio. Nevertheless, the bun plays an important role. A good one will be fresh and sturdy, not a squishy one that collapses when squeezed. A bad fish sandwich can be heavy, soggy and greasy. Kinda like that fast food one.
Luckily, great fish sandwiches are easy to make at home. The first, and most important step, is buying the right fish. And of course, Sea to Table has just the thing: Northwest Pacific Cod.
A Classic Fish Sandwich
Serves 3-4
For the Fish:

Salt and Pepper
3 tsp Old Bay Seasoning (divided)
1 Egg
½ cup Flour
1 cup Panko
Oil for frying (canola, grapeseed or peanut oil)

For the Tartar Sauce:

¼ cup mayonnaise
¼ cup sour cream
2 tbsp sweet relish
2 tsp capers, roughly chopped
2 tsp fresh dill and/or parsley
Zest and juice from ¼ lemon (or more to taste)
Salt and Pepper to taste

Assembly:

Brioche Buns (or any burger bun you fancy)
Lettuce, Tomatoes, Pickles, Hot sauce (for the adventurous ones)
Fish Preparation:
Defrost the fish in the refrigerator for 8 hours. When thawed, pat the fish completely dry and season generously with salt and pepper.
In a large Dutch oven, heat 2-4 inches of oil until a thermometer reads 350°F
Meanwhile, place flour, eggs and panko in three separate shallow bowls. Season the flour with 1 tsp old bay seasoning and the panko with the remaining two teaspoons.
One at a time, dip and cover a piece of fish in flour, shake off any excess, dip into the eggs and finally the panko. Repeat with the rest of the fish pieces.
Place a couple of fish pieces in the hot oil. Be careful not to overcrowd your pot. Fry for 2 minutes, or if the fillets are taller than the oil, fry for 2 minutes on each side or until golden brown.
Transfer the fish to a wire rack placed over a baking sheet to catch oil drippings and quickly season with a sprinkling of kosher salt while the fish is still hot.
Tartar Sauce Preparation:
Stir everything together in a bowl and store in the fridge until ready to assemble your sandwich. The tartar sauce can be made up to 2 days ahead.
---
← Older post Newer post →