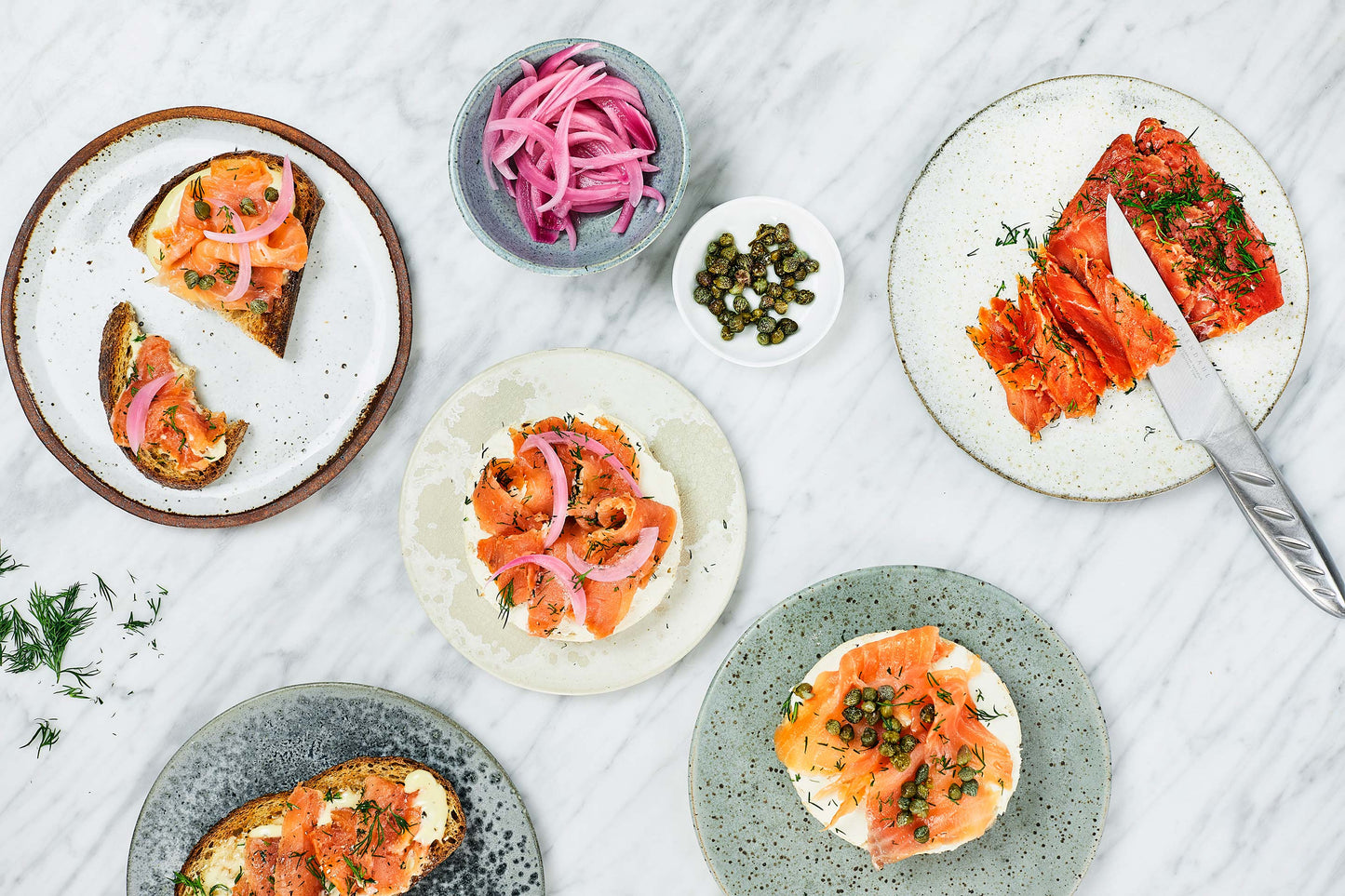 Gravlax, salmon cured in sugar and salt until it is silky smooth, is incredibly easy to make. It only takes about 10 minutes to put gravlax together, and a short 24 hours later, you'll have perfectly cured fish. The most important thing to remember when making homemade gravlax is that you must use the finest quality salmon you can find. Our gravlax starts with Sea to Table Wild Alaska Sockeye Salmon or Coho Salmon. Its bright, clean flavor reflects the wild salmon's varied diet and the clean ocean environment in which it grows to maturity.
Cured salmon comes in many forms, The most known and popular are Lox and Gravlax. The main difference between the two is that lox is cold-smoked after curing. Gravlax packs a little more added flavor with fresh dill and optional aromatics like aquavit, peppercorns or beets.
We love serving this gravlax on bagels or toasted dark bread with cream cheese, red onions, and capers. It is also great with a fresh salad, lightly dressed with lemon and olive oil. After trying this recipe, you may never buy store-bought Lox or Gravlax again!
Cured Salmon Gravlax
Serves 3-4
Ingredients:

12 oz package Sea to Table Wild Alaska Sockeye Salmon or Coho Salmon
3 oz (⅓ cup) Coarse Kosher Salt
3 oz  (⅓ cup + 2 tbsp) Granulated sugar
¼ cup fresh dill, chopped (optional) plus more for garnish.
Preparation (see video below!):
Defrost the salmon in the refrigerator for 12-24 hours
Mix salt, sugar and dill together
Place a large piece of cling wrap on the table. Spread half of the salt/sugar mixture evenly on top of cling wrap. Place salmon on salt, skin side down. Top with remaining salt mixture.
Now wrap the fish tightly in cling film and place in a dish.
Place in the refrigerator for 12 hours. Flip the fish over and place back in the fridge for another 12 hours.
After a total of 24 hours of curing, remove fish from the fridge. Unwrap it and scrape off any salt there might be left and rinse the fish in cold water. Pat completely dry.
Garnish with more dill.
Slice the gravlax into thin slices and serve on bagels or toasted sourdough with sweet mustard sauce.
TIP: The ratio of curing salmon is: Half (50%) of the fish's weight divided in two (salt/sugar. In this case the fish weighs 12oz. Half of that is 6 oz, divided in two = 3oz of salt and 3 oz of sugar. Please note that this only works with weight (oz) not volume (cups).
TIP:You can add any flavor to your gravlax/lox. Try grating beet and mix in with the salt sugar mixture or freshly ground black pepper or even fennel seeds.
---
---
---
← Older post Newer post →