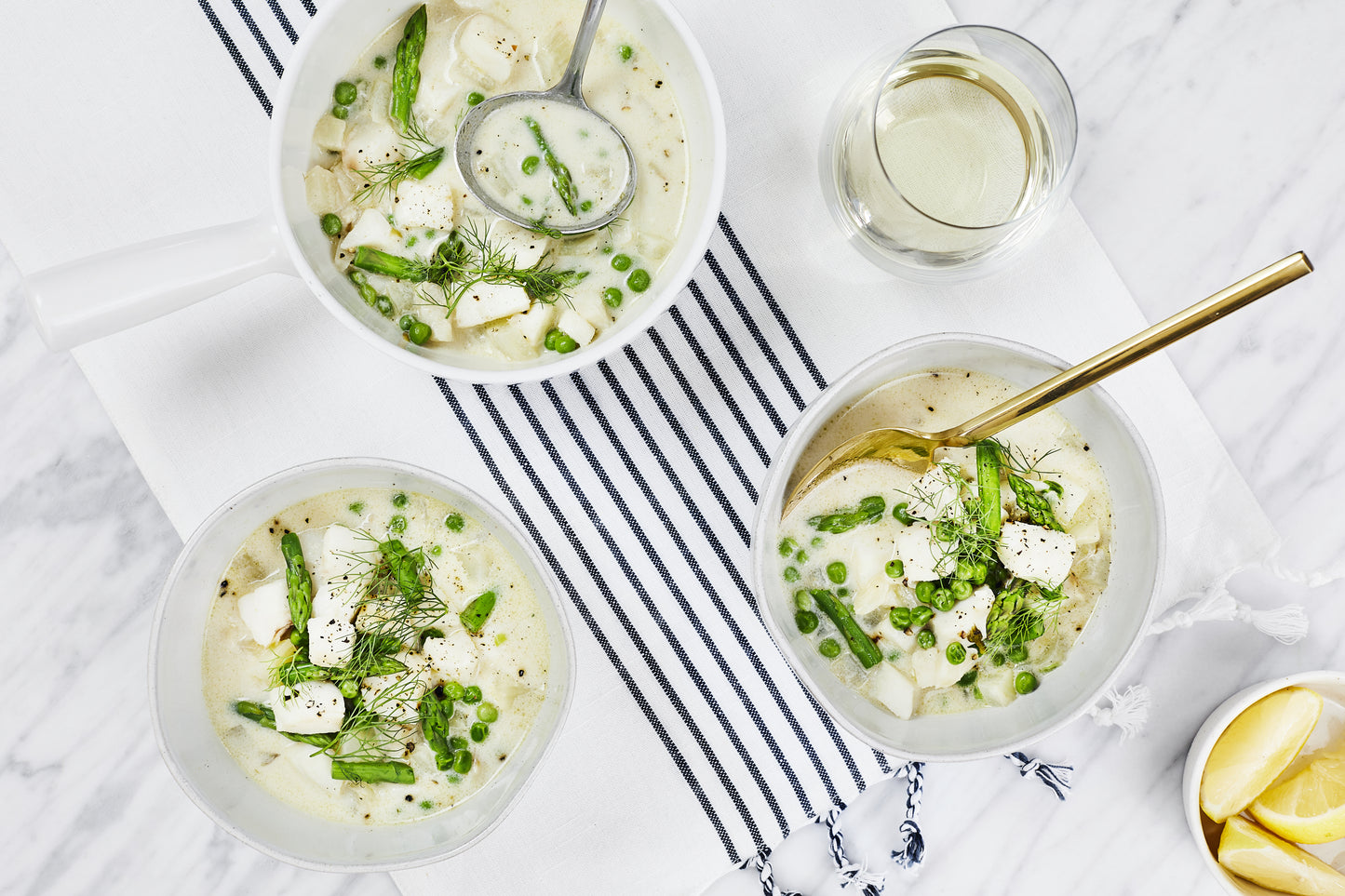 A bright, light and a crowd pleasing soup for welcoming the eagerly anticipated spring, featuring our Northwest Pacific Halibut.
Spring Fish Soup
Serves 2
Ingredients:
2 tbsp Olive oil
½ fennel bulb, diced
½ bunch (approximately 12-14 pieces) Asparagus, stems trimmed then cut into 1 inch pieces
1 tbsp flour
½ cup White wine or Dry Vermouth
2 cups Clam Juice and/or Fish Stock
½ cup Heavy Cream
1 cup frozen peas
12 oz Sea to Table Northwest Pacific Halibut or Petrale Sole (or other white meaty fish), thawed. Cut into bite sized pieces
Salt & Pepper
Lemon Juice to taste
Dill sprigs or fennel fronds for garnish
Preparation (see video below!):
Defrost the fish in the fridge for 12-24 hours
In a (medium sized) pot over medium/high heat, sauté diced fennel and the asparagus pieces in olive oil until starting to soften. About 5 minutes. Season with salt and pepper.
Sprinkle flour over veggies and stir
Pour in the wine and scrape up any brown bits from the bottom. Let simmer, while stirring occasionally, until half of the wine has evaporated. About 1-2 minutes.
Add clam juice or fish-stock (or a mixture of the two) and bring to a boil. Then lower heat and cook (with lid on) until veggies have softened. About 6-7 minutes
Meanwhile, cut the fish into bite sized pieces and season with salt and pepper.
Add cream, peas and fish to soup. Cook over medium heat, stirring occasionally, until fish is opaque, 3–4 minutes. Remove from heat and season to taste with salt, pepper and lemon juice.
Divide soup between plates. Garnish with dill sprigs and/or fennel fronds.
TIP: You trim asparagus by simply snap off the woody ends wherever they naturally break.
TIP: You can use either clam juice or fish stock for this recipe, or be wild and use a mixture of both.
TIP: You can also use 1 lbs of unshelled fresh peas instead of frozen peas. Just don't forget to shell them before cooking.
---
---
---
← Older post Newer post →