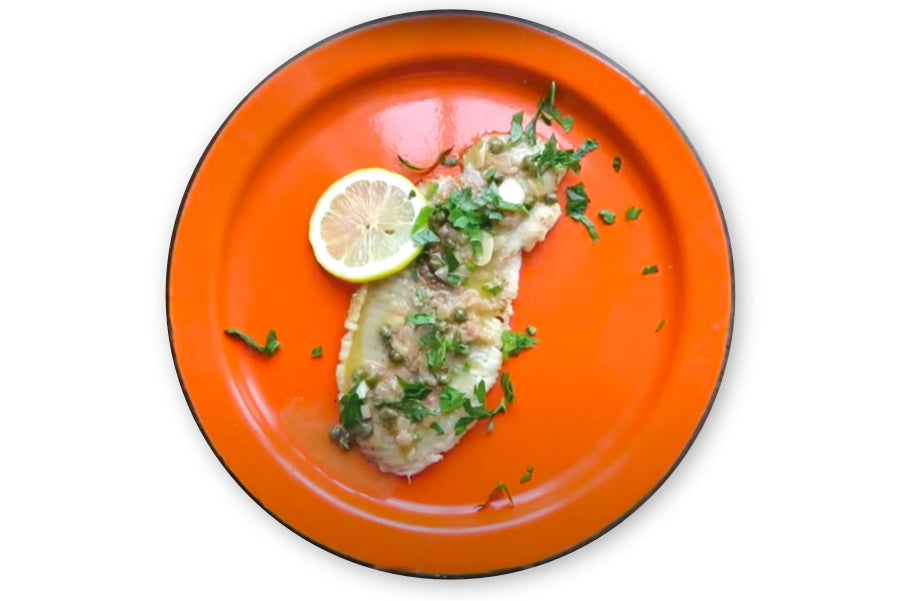 While the video below features Atlantic Winter Skate, we find the recipe works just as nicely with West Coast Dover Sole. Watch the magic happen!
Fish with Caper Butter Sauce
Serves 2
Ingredients:

1 pack Atlantic Winter Skate or West Coast Dover Sole, thawed in fridge overnight
1 cup all-purpose flour
Sea salt and freshly ground pepper, to taste
3 tablespoons vegetable oil ¼ cup shallots
Diced 3 cloves garlic
Sliced ½ stick of butter separated
⅓ cup capers drained
Lemon slices
Chopped parsley for garnish
Sauce Preparation
Melt butter in a hot skillet and sauté shallots and garlic until slightly tender.
Add the capers and keep warm until you're ready to serve.
Fish Preparation
Season both sides of the fish fillets with salt and pepper.
Fill a large mixing bowl with flour and coat both sides of the fish, shaking off excess.
Heat oil in a large skillet over medium-high heat. Once oil is hot, add fish.
Sauté on one side until golden brown, then flip to do the same for the other side.
Transfer fish to a warm plate.
Garnish with lemon slices, pour over sauce, and sprinkle with parsley. Season with fresh pepper. Enjoy while hot.
---
---