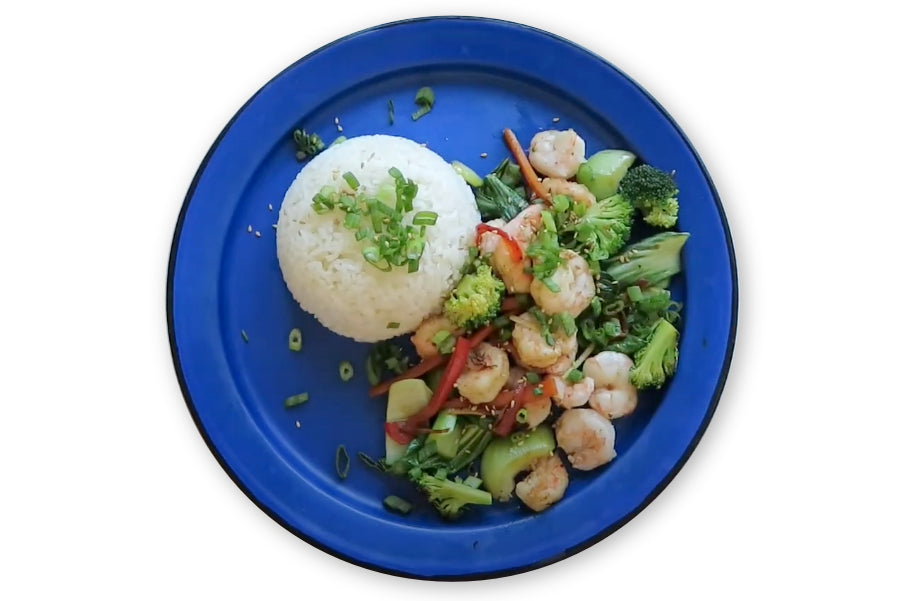 Stir-frying is a technique that originated in Chinese cooking in which one continually stirs small pieces of vegetables and proteins in oil over high heat. Even when following an Eastern-inspired recipe like stir-fry, there's no need to look too far from home for the highest quality ingredients.
Our Wild Gulf Shrimp is the perfect protein for this method thanks to its bite-sized shape, fast cooking time, and delicious flavor. Our Shrimp is wild-caught in U.S. waters and totally free of chemicals and antibiotics -- touched only by sea water! 
Shrimp Stir-Fry with Vegetables
Serves 2
Ingredients:
1 pack Wild Gulf Shrimp, thawed in fridge overnight
Salt and freshly ground pepper
2 tablespoons vegetable oil, divided
¼ cup ginger, freshly peeled and minced
¼ cup garlic, sliced
½ cup carrots, peeled and thinly sliced
½ cup broccoli florets
1 cup red bell pepper, thinly sliced
1 head of baby bok choy, whole leaves and sliced stems
Soy sauce, to taste
¼ cup scallion, thinly sliced
1 teaspoon sesame seeds White rice, for serving
Preparation:
Season shrimp with salt and pepper.
Heat large nonstick skillet over high heat. Add 1 tbsp of oil and heat until shimmering.
Add shrimp mixture and sautée until shrimp are just about cooked through-- they'll be light pink and opaque at the center. Transfer shrimp to bowl or plate.
Add a tablespoon of oil to the same skillet, then add ginger, garlic, and carrots. Once ginger and garlic are fragrant, add broccoli, red bell pepper, and bok choy leaves and stems. Stir-fry until bok choy begins to wilt.
Add the cooked shrimp and soy sauce, and stir-fry for another minute or so.
Garnish with scallion and sesame seeds and serve with white or brown rice. Enjoy while hot.
---
---
← Older post Newer post →