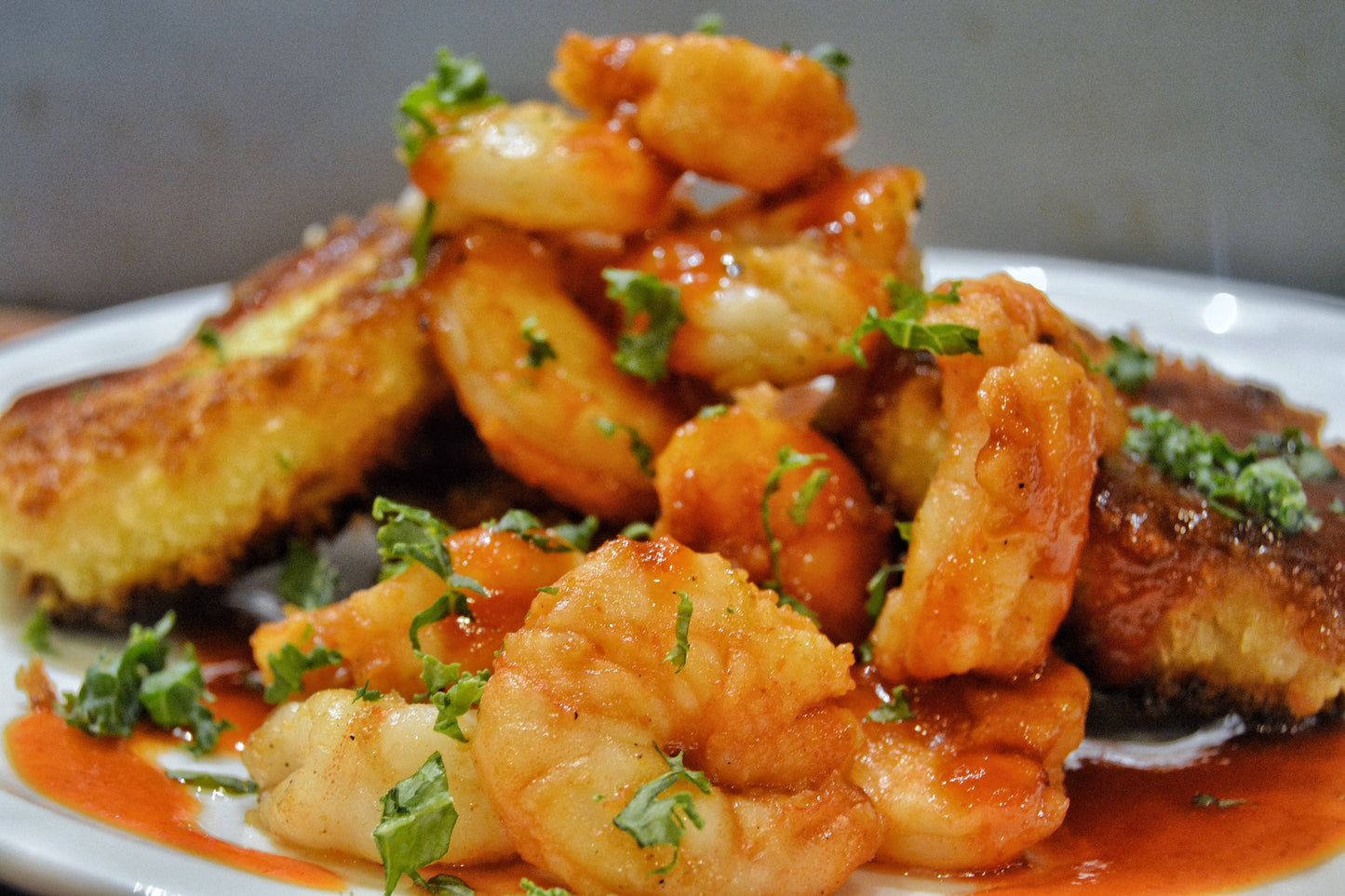 Sriracha packs a punch in this flavorful take on shrimp & grits, while the fried grit cakes make for the most satisfying crunch. Feel free to adjust the amount of sriracha to your own spicy preferences.
Grilled Honey Sriracha Shrimp
Serves 2
Ingredients:
1 Pack Sea to Table Wild Gulf Shrimp
Neutral oil for frying (vegetable or olive)
1 cup of Grits
4 cups of water, salted
1 egg 2 cups Panko bread crumbs
3 tbsp honey
3 tbsp sriracha
1 small clove of garlic, minced Salt Cilantro or parsley for garnish
Preparation
Combine the honey, Sriracha, garlic and salt into a large bowl and mix until fully combined. Use the sauce to marinate the shrimp, reserving some sauce on the side for dipping.
Add shrimp to the bowl with marinade and seal with plastic wrap. You can also seal the shrimp and marinade in a plastic bag for easier cleanup. Let the shrimp marinate in the refrigerator for no more than an hour.
While shrimp is marinating, make grit cakes. Bring salted water to a boil. Slowly stir the grits into boiling water.
Reduce heat to low and cover pot. Cook 15-20 minutes, stirring occasionally, until thickened.
Once grits are cooked, pour them into a large plate or baking dish about ¾ inch deep. Cover and let cool on countertop, then put in refrigerator to cool completely, about 20 minutes.
Once grits have cooled and firmed, use a cookie cutter or top of a cup to cut into rounds.
Set up a breading station. Dip round of grits into egg then coat in bread crumbs.
Heat oil in heavy skillet and fry until golden brown on all sides approximately 4-5 minutes. Place on paper towel to drain excess oil.
Remove marinated shrimp from the refrigerator, and remove shrimp from excess marinade.
Cook shrimp in a skillet on medium high heat, turning them once at the 3 minute mark. Once the shrimp are pink and juicy, remove from heat, arrange on top of grit cakes and garnish with parsley.
Recipe and photos courtesy of home cook Chris Casazza. Chris was born and raised Brooklyn, New York. He currently resides in Staten Island, NY, with his wife and 7 month old twins. When he's not on dad duty or working at his full time job in sales, Chris is a backyard chef and self-proclaimed master of the grill. His love of photography and food has captured the attention (and appetites) of his many followers on Instagram. You can find him on Instagram at @Bar_N_Que.
---
← Older post Newer post →