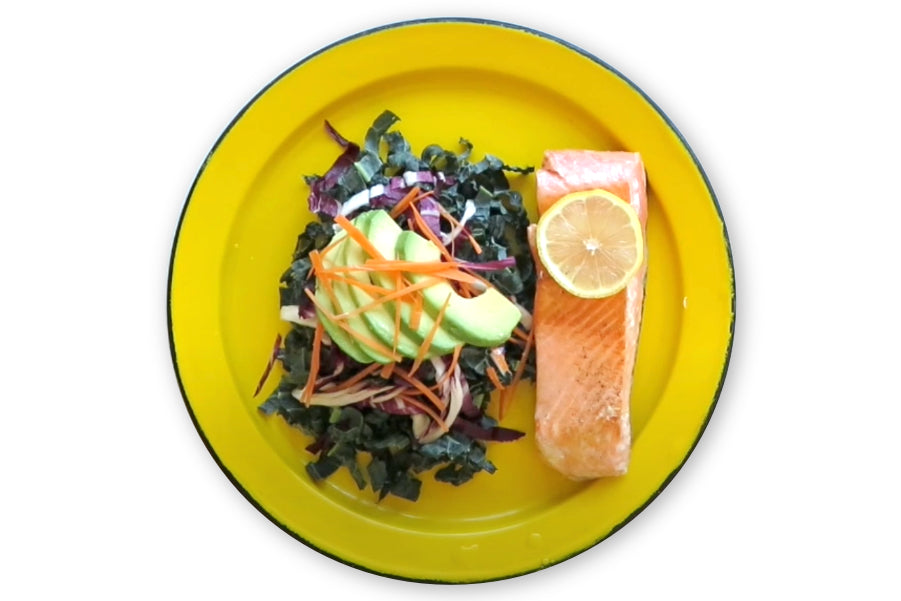 This meal is quick & simple to bring together, making for the perfect light lunch or dinner -- and it's Paleo and Whole30! Feel free to get creative with other greens and veggies in your salad. The Coho can be swapped for Alaska Sockeye Salmon or even our Gulf of Maine Redfish (but be prepared for a slightly shorter cook time). 
Seared Coho Salmon with Kale Salad
Serves 2
Ingredients:
1 pack Alaska Coho Salmon, thawed in fridge for 24 hours
Salt and freshly ground black pepper
2 tablespoons olive oil
2 cups lacinato kale or other dark leafy green, thinly sliced
1 cup radicchio, thinly sliced ¼ cup carrots, peeled and thinly sliced
1 avocado, sliced
Lemon for dressing and garnish
Preparation
Prep your salad ahead of time, but hold off on dressing and slicing your avocado until just before serving.
Remove Coho Salmon from the fridge with enough time before cooking to allow it to come closer to room temperature and pat it dry. This will help you achieve a perfect crispy skin without the curling.
Heat oil in a large nonstick skillet over high heat. When the pan is hot, add salmon fillets, skin side down. Season with salt and pepper.
Sear the skin until it browns, about 5 minutes.
Once the skin is brown and the fillets release from the pan, turn off the heat, gently flip the fillets, and let them sit until the fish is cooked to your preference (the entire fillet will be opaque when fully cooked through).
Serve with your dressed and tossed salad and a squeeze of lemon juice. Garnish with lemon slice if desired.
---
---
← Older post Newer post →