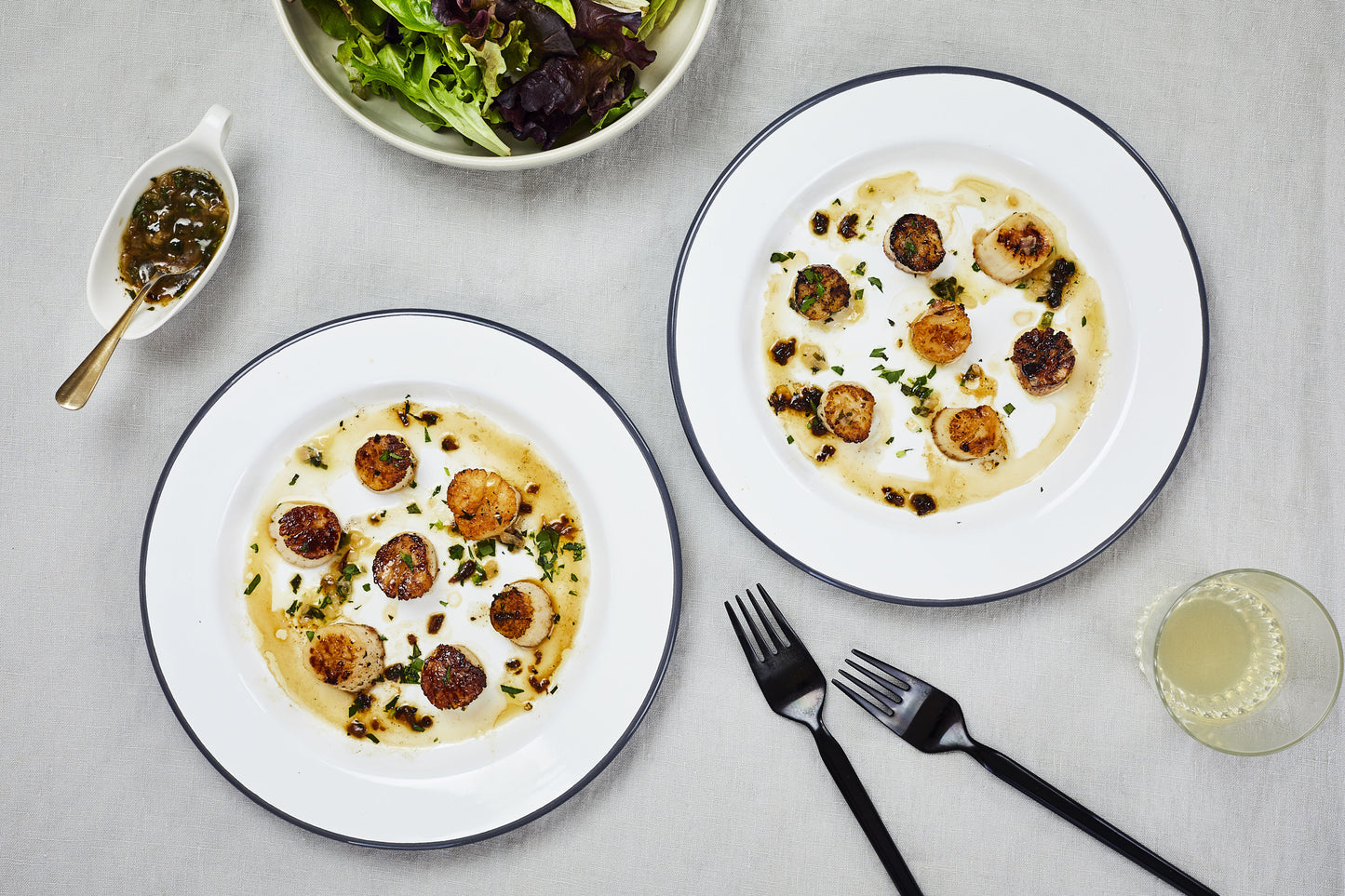 Scallops get a bad rap. Few seafood items inspire so much fear in the heart of the home cooks, perhaps due to the misguided notion that perfectly prepared scallops are the exclusive domain of the pros. Sorry, expensive restaurants. We're going to tell you how to overcome your fear with an easy searing technique that will help you achieve the perfect "restaurant" scallop: rich, buttery, and with a crisp, delicious crust. All that's required of you: a few simple ingredients, a hot pan, a little oil, and a pack of Sea to Table Wild Atlantic Scallops.
Perfectly Seared Scallops
Serves 2
Ingredients:

10 oz Atlantic Sea Scallops
Salt
Freshly Ground Pepper
2 tbsp neutral tasting oil (vegetable, canola or avocado oil)
3 Tbsp Butter, divided
2 tbsp shallot, minced
¼ cup vermouth or dry white wine
1 tbsp fresh Tarragon, finely chopped
1 tbsp fresh flat-leaved Italian Parsley, finely chopped
Preparation (see video below!):
Gently pat the scallops dry with paper towels. Just before cooking, season the scallops with salt and pepper.
Heat the oil in a skillet over high heat until just smoking. Now arrange the scallops in skillet with plenty of space in between. Try not to overcrowd the pan. Cook for 2 minutes without touching, then flip over and cook for 2 minutes on the other side, again without touching them. Remove the scallops from the pan and divide between two plates
Turn the heat down to medium, add in 1 tbsp butter and the minced shallot and cook until the shallot has softened, about 2 minutes.
Now pour in the wine and deglaze the pan while stirring up all the brown bits at the bottom of the pan. Let the wine reduce by half, about 90 seconds.
Stir in the herbs followed by the remaining butter, bit by bit so that your sauce doesn't break.
Pour sauce over your plated scallops and serve immediately with crusty bread and/or a fresh salad.
---
---
---
← Older post Newer post →