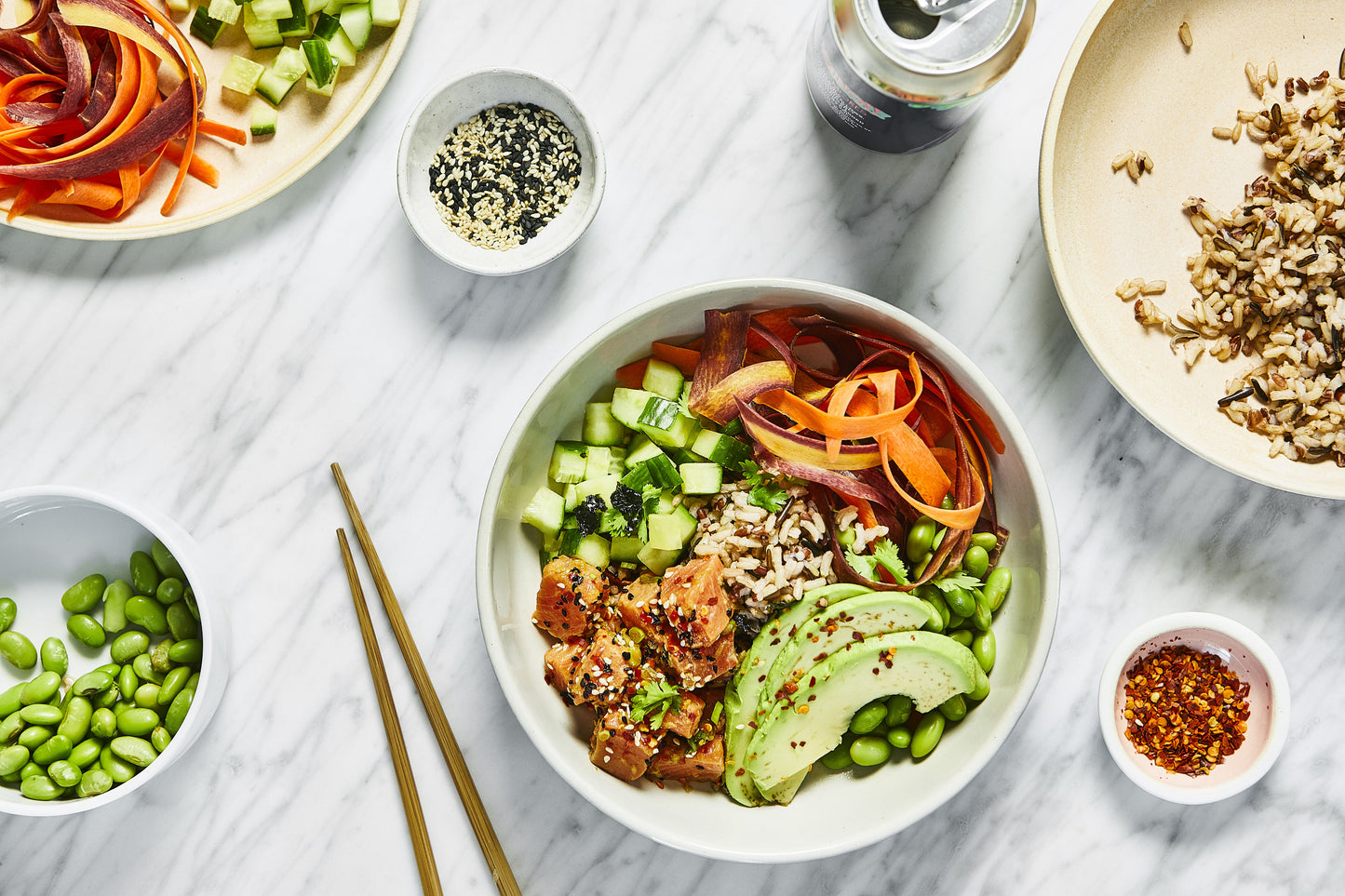 Poke, a famous Hawaiian dish, is pronounced Po-keh. Humuhumunukunukuapua'a, famous Hawaiian fish, is pronounced… well, let's skip that one and get back to Poke. Meaning "to chop into pieces", it is usually found in well-stocked fish counters and fine restaurants. Who would have guessed that you can make this simple yet exotic dish at home any time you like using Sea to Table Wild Alaskan Sockeye Salmon? It's a refreshing break from the ordinary, with the salmon being "cooked" only in an acidic marinade, letting the fresh, wild taste of the fish shine through… and it's on the table in less than 30 minutes. Can you pronounce yum?
Salmon Poke Bowl
Serves 2
Ingredients:
1 cup cooked white or brown rice (or any other grain of choice such as quinoa or barley)
10-12 oz Sea to Table Alaska Sockeye Salmon, almost completely thawed cut into ½ inch cubes
¼ cup Soy sauce (or tamari for gluten free)
2 tsp Sesame oil
2 tsp Rice Vinegar (or regular white vinegar)
Knob ginger, grated
2 Scallions, finely sliced
1 tsp Sesame seeds
Pinch chili flakes (optional)
Edamame, shelled and cooked (can be bought frozen in supermarket)
½ Cucumber, diced
2 Carrots, ribboned or shredded
½ avocado, sliced
2 sheets nori, crumbled
Preparation:
Stir soy sauce, sesame oil, rice vinegar, ginger, scallions, sesame seeds, and chili flakes together. Add the fish and let marinate in the fridge for 15 minutes or up to two hours.
Follow the cooking instructions on the package for edamame.
Cut the cucumber into dice, use a vegetable peeler to peel the carrots into ribbons. Slice avocado.
Place rice in bottom of bowl, divide veggies and marinated fish on top. Garnish with crumbled nori.
TIP: you can cook your rice with coconut milk instead of water to pack even more flavor into this vibrant dish.
---
---
← Older post Newer post →